Introduction
The Department of English (DE) is affiliated with the University of Information Technology (UIT), Vietnam National University – Ho Chi Minh City. The on-going mission of the DE is to provide all UIT students with globally standardized language programs to enhance the students' English language proficiency levels. After finishing all compulsory courses of the DE, the students will satisfy the English level proficiency required by the Vietnam National University, HCM and the UIT, as well as improve their English competency which will assist them in their study and future careers. The DE is also conducting the "English Zone" project (which is under the National Foreign Languages Project 2020) that creates an active environment for UIT students to practice English outside the classroom.
Programs
1. Content:
With the ultimate aim of developing students' English levels and promoting their academic integration in multidisciplinary programs, the DE has improved their training program by combining General English and International English programs. The program for UIT students includes three primary English courses. These English courses are comprised to gradually increase the students' English competency from Pre-Intermediate, Intermediate to Advanced levels, focusing on the four basic English skills: Listening, Speaking, Reading, and Writing. Particularly, the program content centers on necessary language learning methodologies, such as: listening and note-taking strategies, communication and presentation skills, academic reading skills, skills for essays and research writing. Besides, the content is also partly based on the TOEIC structure so that the students can get familiar with the international language test.
2. Materials:
The course materials include two main textbooks: Outcomes (Pre-intermediate level) for General English and Longman Preparation Series for the TOEIC test (Intermediate and Advanced levels) for TOEIC program.
3. Placement test:
All new students are supposed to take a placement test before the semester starts. Based on the results of the placement test, the students will take the appropriate English course.
4. Assessment:
The total grade for a whole semester includes:
+ Student progress score (20% of the total score)
+ Mid-term test score (30% of the total score)
+ Final test score (50% of the total score)
RESEARCH ORIENTATION
Our research focuses on developing and implementing new teaching methods to boost the effectiveness of students' study habits. Our goal is to ensure that students attain the required competency and fluency of English in the shortest time possible. 
Areas of our research interests include:
+ Active listening and note-taking strategies
+ Developing critical reading approaches
+ Computer-assisted language learning
+ Project-based learning
TEACHING STAFF
The members of English Department (ED) are qualified and devoted lecturers graduated from top universities in Vietnam as well as other countries, i.e. the United Kingdom, Australia, and the USA. Our staff includes 8 members attained Master's degrees in TESOL, Applied Linguistics, and Educational Leadership; 1 member held Doctoral degree in Higher Education; 1 member being taken the PhD fellowship in the USA. Our expertise enables our department to design and develop innovative curriculum and methodologies to better serve UIT students.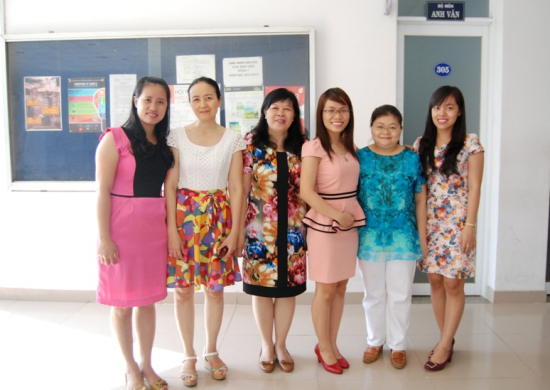 Contact information 
Room 305 – Building A
Telephone: (84)-8-37251993. Ext: 102