Wed, 03/08/2016 - 09:11
In the morning of June 20th, UIT solemnly held a Graduation and Degree Awarding Ceremony to UIT's graduates. Attending the ceremony was the presence of UIT's Rector Board, Deans of Faculties, Heads of Offices, lecturers, parents, 62 graduates in master degrees, and 311 in engineering and bachelor degrees.
Delivering the speech at the ceremony, Professor Dr. Duong Anh Duc, Rector expressed his heartfelt thanks to the families for supporting the graduates within the last 4 years so that they could stand here for their degree. He also thanked all members of faculties and departments who contributed their job for the UIT's tasks entrusted by the Vietnam's Government.
Also on this occasion, Rector Duong Anh Duc congratulated graduates for their achievement and wished them success in the future. According to him, this would contribute to the reputation of Vietnam National University – Ho Chi Minh City and UIT.
In this ceremony, 4 valedictorians from the 4 faculties: Computer Engineering, Software Engineering, Information Systems, Computer Networks and Communications and other 16 received UIT's certificates of merit due to their excellence in studying and social activities.
At the end of the ceremony, Tran Dinh Thi, the former chairman of UIT's Student Union spoke on behalf of his fellow graduates to thank all teachers and staffs who gave them chances to succeed. He also recalled the graduates of beautiful time when they were together.
The ceremony ended with happy atmosphere, leaving lasting good impression in the heart of the graduates and their parents.
Picture gallery: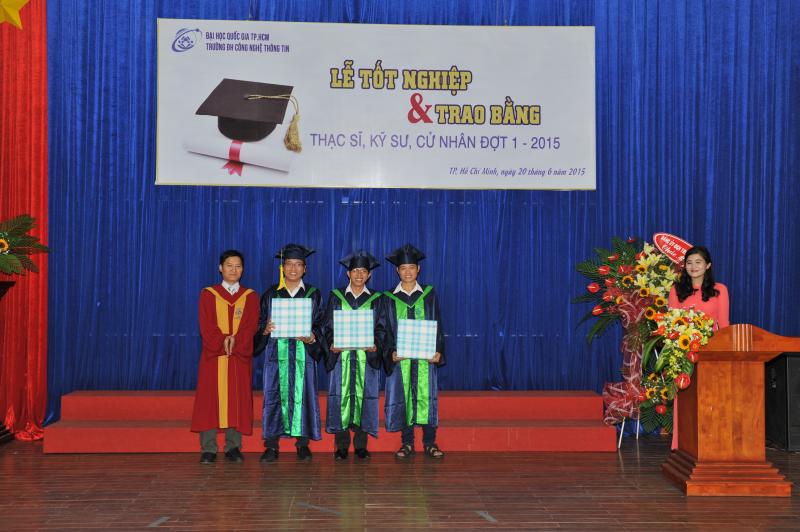 Translated by Hoa An
Vietnamese news: Kim Anh
Photo: Tuan Kiet