Wed, 03/08/2016 - 14:09
On November 28th, UIT Career Day 2015 was successfully held at VNUHCM - University of Information Technology (UIT). This is the first and largest on-campus event which is aimed at broadening employment advantages to UIT's students.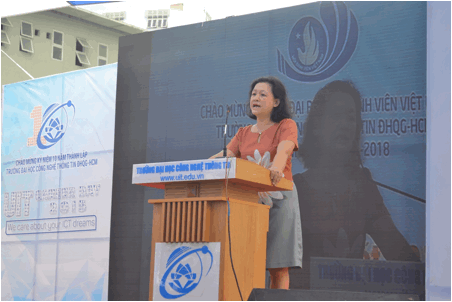 Dr. Nguyen Hoang Tu Anh, UIT's Vice Rector delivered the speech
At the day, there were the representatives from 27 enterprise sponsors, UIT's leaders, heads of faculties, departments, teachers, and thousands of students. Delivering the opening speech, Dr. Nguyen Hoang Tu Anh – UIT's Vice Rector highlighted outstanding accomplishments gained by UIT's teachers and students in 10 years' time since its foundation. The event was the perfect networking opportunity for UIT, the students, and the enterprises. It helped to reinforce the bridge between UIT and the industrial partners, fulfill the commitments to academic excellences; connect the students with employers and learn about different companies and industries with prospective employers. This is the opportunity for the recruiters to meet potential employees.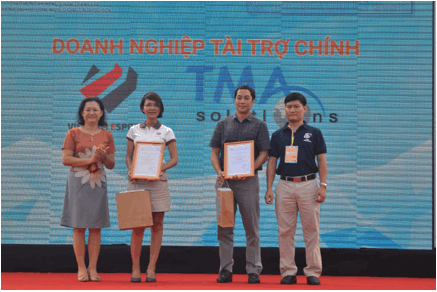 Dr. Nguyen Hoang Tu Anh, and Dr. Vu Duc Lung, Vice Rectors handed out gifts and thank-you letter to the primary sponsors
The event saw more than 2,500 students visiting 30 exhibition stands of 27 companies in information and communications technology (ICT) fields. On this occasion, the companies offered a lot of job posts in ICT fields for the students to find their ideal jobs. Five workshops also were organized and presented by the sponsor representatives so that the students could improve their employability skills, and prepare for their future development.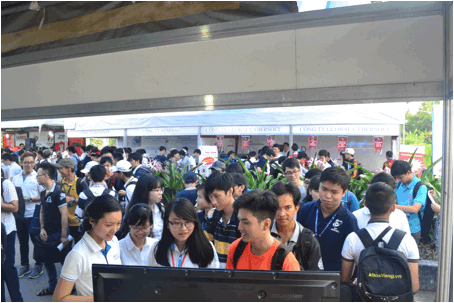 Thousands of students gathered at the exhibition stands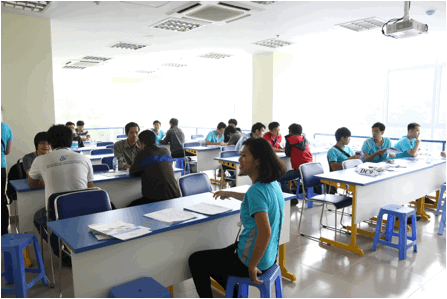 It is time for recruitment activities
In addition, Vietnam National University's President Board conferred medals to outstanding students in recognition of their success as the champion team at the two competitions: "Cyber SEA Game 2015" and "Student and Information Security 2015".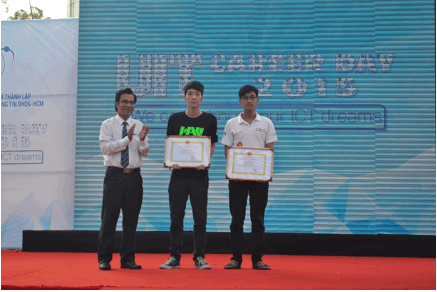 MA. Luu Trung Thuy, Deputy Head of VNUHCM-Students Affairs Department conferred
the certificate of recognition to excellent students at the Cyber SEA Game competition 2015
This event is the first in the series of events to welcome the UIT's Foundation Day in 2016.
Translated by Duong Kim Thuy Linh
Image: Tran Ngoc Diem Minh