Wed, 03/08/2016 - 09:11
In the morning of April 15th, the United States Agency for International Development (USAID), co-partnered with Microsoft, organized the final round of the national 2015 Vietnam Imagine Cup. This is one of the world-leading technology contests on innovation. It opens up opportunities for students around the world to learn and build products on the new platform, tools and services provided by Microsoft.
The team Better We
The first round kicked off from November 6th, 2014 to February 7th, 2015 with 127 paper submissions for idea. Out of those, 41 submissions had been selected; and each team had five months to implement the products. For the second round, the organizing committee selected 16 products in the World Citizenship, 13 products in the Innovation and 12 products in the Games categories. After careful consideration, the committee picked 5 products in the World Citizenship, 2 products in the Innovation and 2 products in the Games category to be presented in the final round.
At the final round, Better We, Atasow and Bee are the first-prize winners for the World Citizenship, Innovation and Games categories respectively.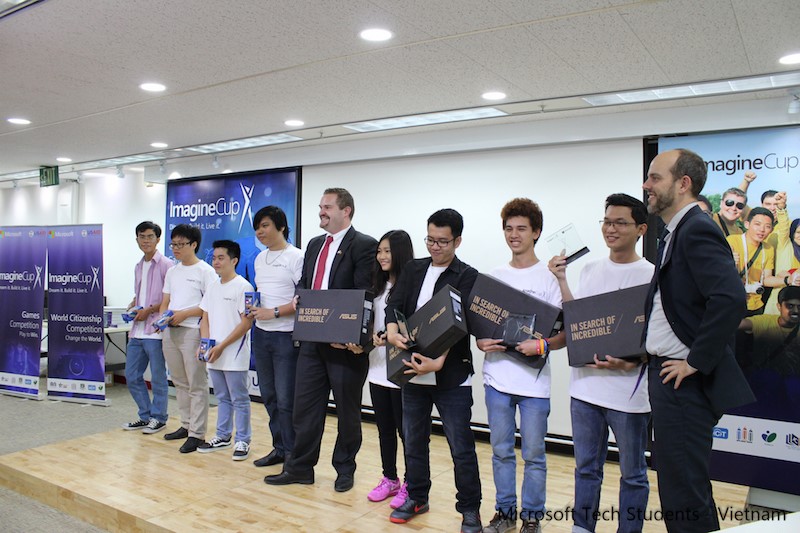 The three winner-teams
These 3 winner-teams will participate in the online Asia Pacific (APAC) round to compete for a ticket to the Imagine Cup World Finals in July, 2015 in Seattle, USA.
The team Better We has 4 members in which two of them are from UIT: Tran Van Tuan (last year student of the Information Systems Faculty, VNUHCM-UIT), Do Anh Thong (third year student of the Honor program at the Computer Science Faculty, VNUHCM-UIT).  The other two students are from VNUHCM - Ho Chi Minh City University of Economics and Law, and Ho Chi Minh University of Industry. The topic of the team is constructing a framework to quickly form a system that allows the sharing of medical devices to support people with physical impairment.
By Toan Nguyen, Student Affairs Office (Translated by External Relations Office)