On the morning of November 2, 2016, The center of Education Quality Assessment – Vietnam National University, Hanoi (VNU-CEA) in collaboration with University of Information Technology (UIT) – Vietnam National University, HCMC held the Closing ceremony for assessing of UIT according to the standard of university quality of Ministry Of Education and Training (MOET) from October 29 to November 2, 2016.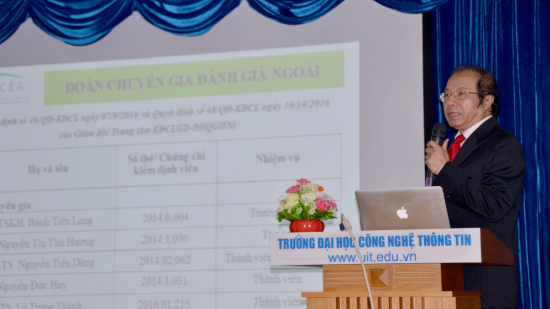 GS.TSKH Bành Tiến Long, Trưởng đoàn đánh giá VNU - CEA trình bày báo cáo sơ bộ
At the Closing ceremony, Prof. Dr. Banh Tien Long presented the preliminary report of external evaluation of UIT. The report described external evaluation and review results on the university's performance and capability in delivering high quality education through 61 indicators of 10 standards.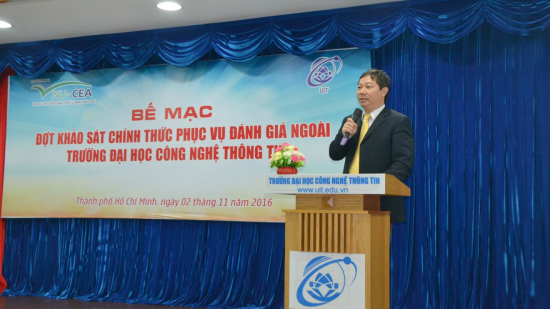 On behalf of UIT, Associate Professor Duong Anh Duc respectfully thanked to the external evaluators of VNU-CEA for making effort to providing proper assessment on UIT performance, help UIT improve its internal management and leading position in training information technonoly and communication.
At the end of the Closing ceremony, representatives of VNU - CEA leaders and UIT President signed memoradum of finalising the external evaluation and review.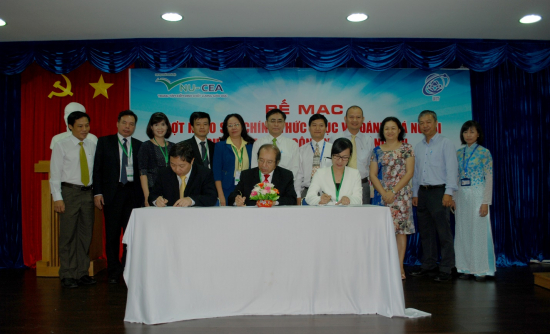 Two sides jointly signed the memoradum of finalising the external evaluation and review
News, photos: ĐỨC LỘC