VNUHCM - University of Information Technology (UIT) is the public university that was founded under the Decision No.134/2006/QD-TTg dated on June 8, 2006 by the Vietnam's Prime Minister. It offers prestigious programs in Information and Communication Technology (ICT). As the university member of Vietnam National University of Ho Chi Minh City (VNUHCM), UIT takes charge of training high-ranked labor force in information technology (IT), who are to contribute to the development of Vietnam's IT industry. Meanwhile, it conducts scientific researches and transfers advanced IT. Especially, its focal point is the application which aims at promoting the country's industrialization and modernization.
After over 10 years of founding and development, its facilities include modern and well-equipped areas for studying, researching and working that have been invested tremendously with over 14 hectares in total and within the VNU-HCM zone.
Since UIT's core value as "Exquisite – Innovation - Enthusiasm" shapes what it operates, develops. The motto also helps mapping UIT as the top university in IT field in Vietnam, and the place for its students to be catered in all aspects, such as knowledge, professional skills and attitude towards life in order to serve public community, and become dynamic - brave - confident citizens to integrate with the international community.
The majority of its lecturers with graduate degrees has been its core labor at UIT. They contribute to the production and transfer of knowledge. Besides, UIT's professional managers, working with all of their sincerity, proficiency are assessed as the important workforce to navigate the UIT's success. The number of lecturers who possesses the graduate degree in ICT sector takes up 93% of the total full-time tenure track lecturers. UIT has 01 Professor, 05 Associate Professors, 45 PhD and 140 Master lecturers. They are alumni from prestigious universities, institutes in the developed countries in the world.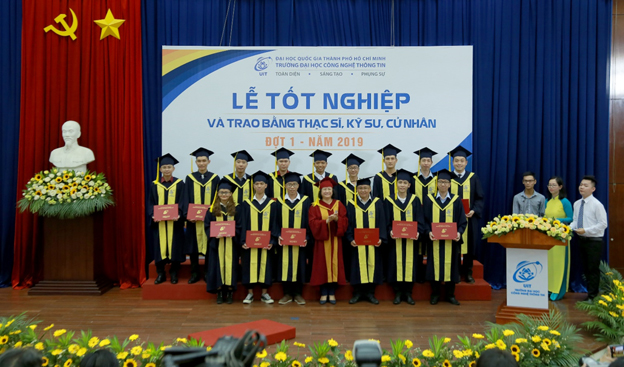 Associate Professor Dr. Nguyen Hoang Tu Anh, UIT's President confers Master degrees
Its programs ranging from undergraduate to graduate level are tailored to fit in the diverse learning and researching needs and keep pace with social requirements to provide human resources in the field of ICT. It is also well-known as a fundamental university, among 7 others getting assigned from the Prime Minister to nurture its students in Information Security in Vietnam for special social needs.  UIT has totally 17 programs in engineering and bachelor degrees. To regular Bachelor degrees, UIT has 07 special regular ones including the talented Engineering program in Information Security, the talented Bachelor program in Computer Science, the advanced Program in Information Systems, etc. To the Master degrees, UIT has 03 training programs: Computer Science, Information Technology and Information Systems. To Doctoral degrees, UIT has 02 programs: Computer Science and Information Technology. The total number of Master and Doctoral students is current over 6,000.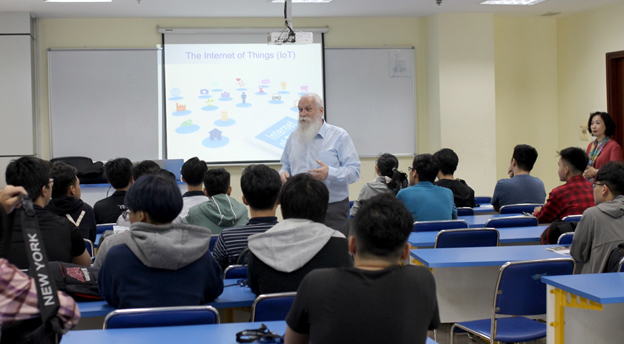 A class at UIT
In line with training, scientific research are in UIT's utmost attention and highlighted as the top of all other activities. The focal point concentrates on Information Security, Internet of Things, Artificial Intelligence, Data Sciences and Circuit Design (VLSI Design). Besides, other research fields are being invested and promoted such as E-Commerce, Knowledge Engineering, Multimedia Processing, and Information Systems, Software Engineering. National and international conferences hosted by UIT have become a forum for IT scientists to exchange their ideas and collaborate to carry out research on mutual interest issues.
External relations activities have been expanded quickly and deeply, to support training and scientific research's purposes. UIT has built positive relationship with other universities, research institutes, enterprises and organizations in Vietnam and abroad in collaborative training, and exchange of lecturers, students and as a supplier of human resources.
Japan's IT Job Fair 2019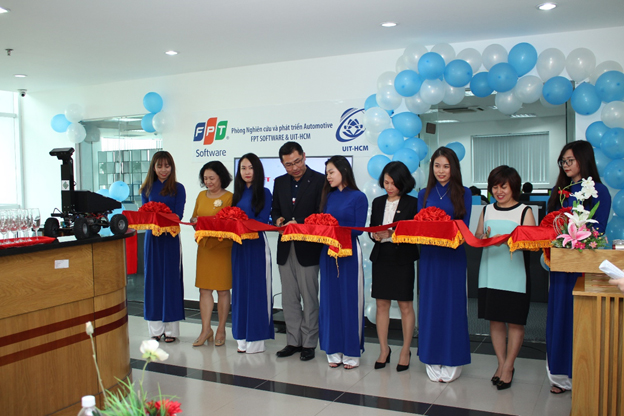 UIT's President, representatives of FSOFT and AISIN join in an inaugurated ribbon-cutting ceremony to bring FSoft – University of Information Technology Automotive R&D Laboratory to the public
UIT's International conference MAPR2019
UIT's students are at an experiment of their scientific research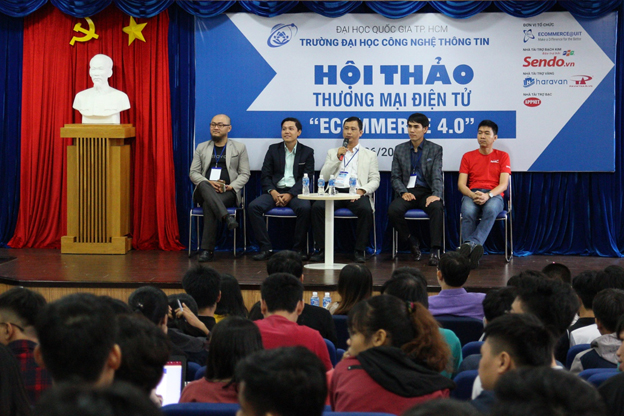 UIT's Ecommerce 4.0 seminar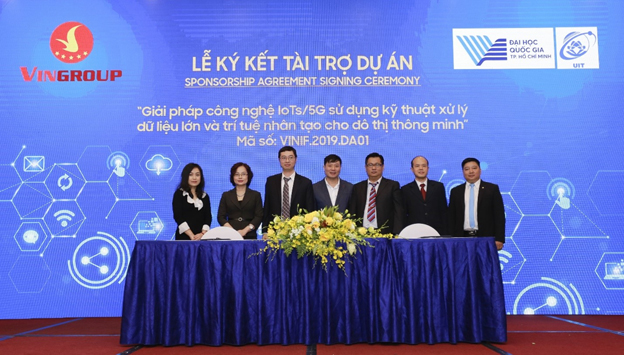 The signing ceremony of project sponsorship between Vingroup and UIT
UIT is proudly to have 100% of graduates having jobs. 90% out of them has a job related to their major. The percentage represents UIT's unity of different aspects involving the investment of infrastructure, sufficient equipment for teaching and researching, high spirit of teaching, love of education that bring lecturers closer to their students; the assistance from enterprises, organization, the Youth Union, student community encourages them in study and enhances their awareness of obligations to doing social work and serving their country.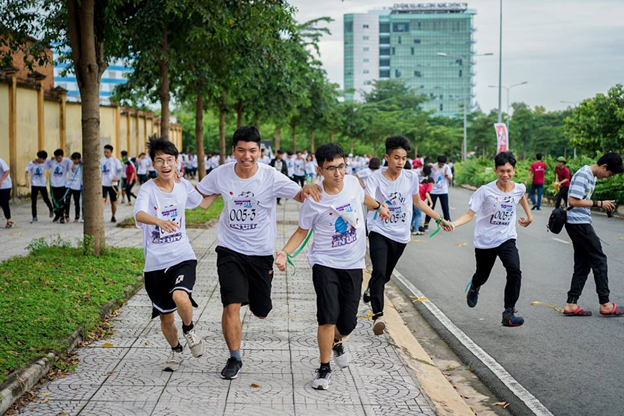 A UIT's extra-curricular activity