On the afternoon of December 3, 2021, at the VNUHCM - University of Information Technology, HCM (UIT) took place a book giving ceremony and MOU signing ceremony between UIT and Saigon Entrepreneur Magazine.
Attending the ceremony, on the side of Saigon Entrepreneur Magazine, including Mr. Tran Hoang - Editor-in-Chief. Representatives of UIT include Assoc. Prof. Dr. Nguyen Hoang Tu Anh – President and leaders of both sides and reporters of Saigon Entrepreneur Magazine.
The action of book giving from Saigon Entrepreneur Magazine at the UIT is one of the activities in the "Business and Book Week 2021" taking place from December 1 to 7 with the theme "Culture and reading book in business". The program is implemented by Saigon Entrepreneur Magazine in collaboration with Vietnam Publishing Association - Southern Office, Ho Chi Minh City Book Street Company, and related units.
Cooperation signing ceremony with the goal of building and forming a reading culture not only with businesspeople but also spread to students; helping to improve thinking, knowledge, honoring values, affirming the role of books in learning and life, and looking forward to cooperating in organizing many activities and programs in the near future, UIT and Business Saigon Entrepreneur Magazine decided to sign the Memorandum of Understanding, marking a new development in the relationship between the two sides.
Some photos of the ceremony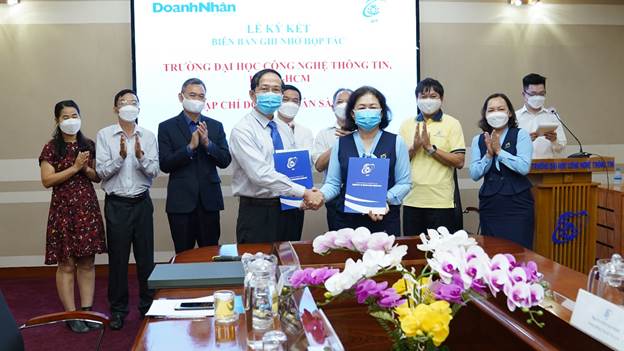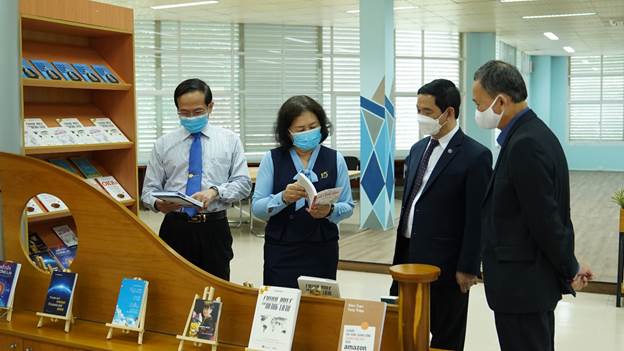 News: Mỹ Hạnh
Photo: Saigon Entrepreneur Magazine