On May 14, 2017, the UIT-ACM VII contest was held in 2017 at UIT. The contest was hosted by the Student Union of the Faculty of Computer Science together with the monopoly sponsorship GEEK Up Software Development Company.
UIT-ACM VII attracts more than 90 teams with more than 300 contestants from University of Information Technology, University of Social Sciences and Humanities, Ho Chi Minh City University of Pedagogy, HCMC University of Technical Education.
Over the past six years, the competition has created a new playing field in the field of programming. Coming to the contest, students are exposed to the international programming environment, arouse the passion and ability to develop thinking, apply knowledge to solve the problem the most right and optimal. The competition also helps students to improve their ability to work in groups, calm, confidence to solve a problem in a certain time. The team tried their best to complete the test very well. As a result, the ISCS team from the UIT won the first prize, the second prize belongs to UPCoder3 - University of Pedagogy HCMC, third prize was given to HIS team and Ruby team of UIT, UIT_3Ahihi team won the young team promising. UIT-ACM VII is sponsored monopoly by GEEK Up. GEEK Up was founded in early 2014 by members who have passion on developing software products, of which the project leader is an UIT alumna. The initial goal of GEEK Up was simple: it became the ideal environment for developing great products. Within three years, this simple goal has helped bring together over 30 talents, together developing and producing more than 150 quality products for partners around the world.
Here are some photos of UIT-ACM VII
Mr. Dinh Hong Chau - Representative of GEEK Up Company, delivered the opening speech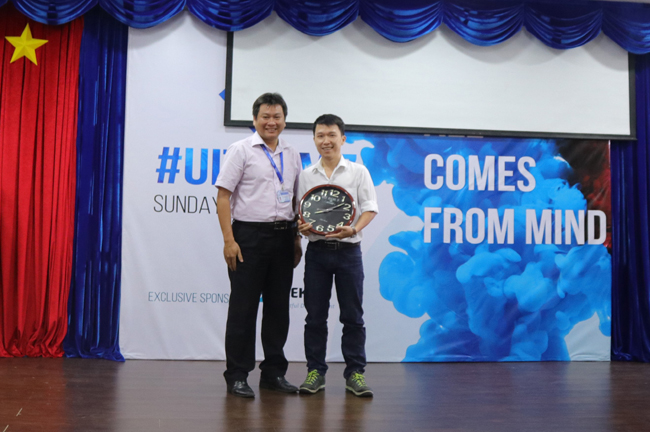 Mr. Nguyen Van Toan, Head of Advisory Board, gives souvenirs to donors
News & Photos: Hoài Nguyên