A passion for technology and innovation
Established in 1981 by Mr. Hermann Rosen in Germany, the company of ROSEN develops software and hardware solutions for inspection and maintenance of a wide variety of industrial assets, such as pipelines, ensuring the safety of these systems. Within the internationally operating ROSEN Group with more than 3,300 employees, our Research and Development Centers at various locations are synonymous with high innovative power and extraordinary creativity.
We are a reliable technology partner and develop innovative products and services – including a host of software solutions – supporting over 25 branches worldwide. The software we develop is used for operating inspection tools, data evaluation, reporting as well as numerous other applications. To this end, we use a wide variety of software stacks and technologies and are keen to use modern technologies such as blockchain, AR/VR and machine learning.
What we do
Our passionate team develops state-of-the-art software for the ROSEN Group at our research center on the UIT Campus. Team spirit is much more than just a byword for us as we live and breathe it both at the workplace every day and at many events after hours. We cooperate closely, share our knowledge, and support each other. With a knack for technology and innovation, we put novel ideas into practice, rise to challenges and drive pioneering technologies. Agile software development methods are an integral part of how we work.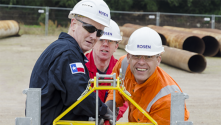 What we offer
With us you will find ample scope for creativity and your innovative spirit. Regular in-house workshops give our software developers the possibility to get away from their everyday routine to learn and try out new technologies. We strive for continuous improvement, working on versatile projects in an on-going exchange and with the expertise of our specialists. In combination with individual education, we permanently take our competencies to the next level.
Summary of benefits:
Visual Studio Enterprise Subscription
Latest technology (also for private use at special rates)
Flexible working hours
State-of-the-art working environment and latest equipment
Unique team spirit
Good work-life balance
Company pension scheme 
Join the ROSEN family!
Currently we are looking for:
Front-End Developer (download job ad)
Back-End Developer (download job ad
( full-time or 24-hour/week internship)
Visit https://forum.uit.edu.vn/node/549735 for details.
Are you a team player, ready to share your open mindset and on a quest for new challenges in software development? Then you've found the right place with us! Please do not hesitate to contact us at Mr. Nguyen Tuan Anh( lnguyen@rosen-group.com, +84 93 403 7678). We look forward to getting in contact with you!