May 24, 2018 – A 2018 – 2019 Student Conference (Conference) was hosted at the VNUHCM - University of Information Technology (UIT). The Conference was a meeting between UIT's students and leaders to discuss issues such as learning, teaching, and facilities.
The Conference was attended by a representative from the VNU-HCM's Dormitory: Ms. Nguyen Thi Thu Trang – Head of Student Affairs Office;
UIT leaders included: Associate Prof. Dr. Nguyen Hoang Tu Anh – UIT's Party Committee Secretary; President, Dr. Nguyen Tan Tran Minh Khang - Vice President; heads of offices, departments, faculties and centers; university counselor, and more than 400 student representatives.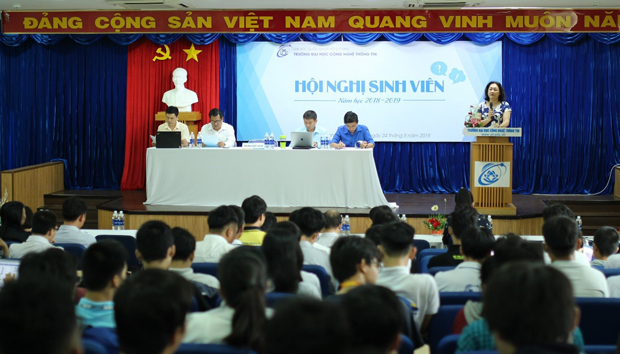 Conference's Presidium
Speaking to open the Conference, Associate Prof. Dr. Nguyen Hoang Tu Anh declared that the Conference was a meeting for UIT's students to implement their rights in contributing personal opinions to make the university stronger. President Tu Anh expressed her hope that the Conference's Presidium would be willing to get feedbacks from the student representatives in a frank and sincere manner.
Before the 2018-2019 Student Conference was held, the 6 faculties organized their Student Conference at a faculty level, and nominated representatives to attend the Conference. Issues which draw the students' interests were answered at the Conference, relating to training, foreign language's standards, personal data's security, facilities, network systems and students' life at the VNUHCM's Dormitory. The answers were satisfactorily made by the Board of Presidents, leaders of faculties, offices and VNUHCM dormitory's representatives. They also listened to the representatives' feedbacks carefully.
According to President Tu Anh, the discussed issues at the 2018-2019 Student Conference were improved: the number of questions in 2018-2019 decreased, compared with that in 2017-2018. This proved that the relationship between UIT and students was getting better. UIT's objectives was to center its students in every of its activities so that the students would be well served, such as the university provided students with rooms to get relaxed at noon. UIT organized classes to help in need students, committed to its tuition roadmap when UIT became financial autonomy. With the goal of serving students better, UIT wished the students would continue to engage in contributing for the university's development with their feedbacks soon through activities such as "Students have lunch with the President", and face-to-face working meetings with the President Board on Monday every week.
At the Conference, the President awarded certificates of merit to lecturers and students who achieved high rank in the Olympic's National Mathematics Competition.
Some photos at the Conference:
Dr. Ngo Duc Thanh – Dean of the Computer Science Faculty answered the question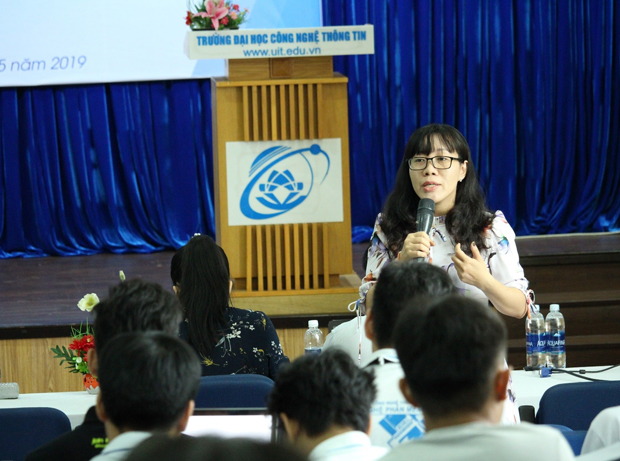 MSc. Le Ngo Thuc Vi answered questions about security of the students' personal data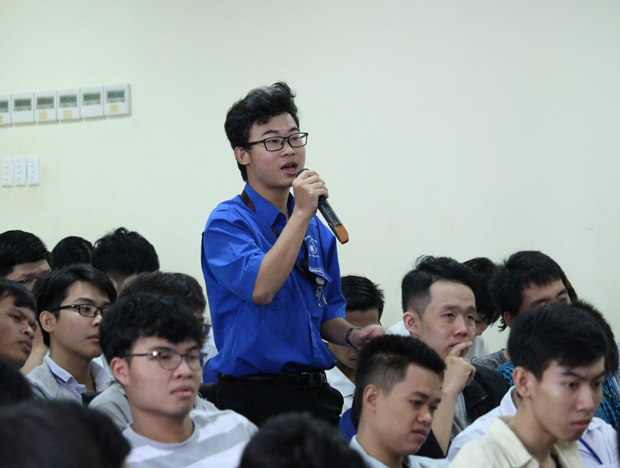 A student representative asked questions to the Conference's Presidium
News: Duong Kim Thuy Linh
Photo: Nguyen Minh Nghia