In the morning of October 26, 2017, University of Information Technology (UIT) had a meeting with the Robert Bosch Engineering and Business Solutions Vietnam (Bosch).
Attending the meeting, on the Bosch's side, there were Mr. Kasibhatla Nanjunda Rao, Department Head; Mr. Phan Dang Minh Toan, Employer branding Executive.
On the UIT's side, there were Dr. Nguyen Tuan Nam - Head of External Relations Office; Dr. Nguyen Minh Son - Dean of the Computer Engineering Faculty; Dr. Trinh Le Huy - Lecturer.
The meeting was aimed at introducing and discussing plans to build cooperative relation between UIT and Bosch through recruiting graduates, working with UIT on smart products and introduce them to the market.
Bosch is particularly interested in working with UIT on technical solutions to IT and Business services, Smart city's connection, Internet of Things, battery-free smart water meters which get energy from water power.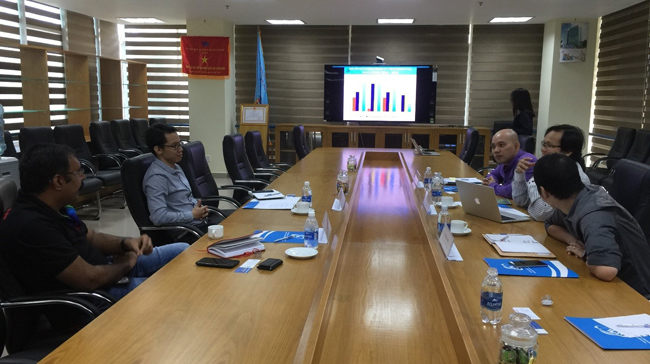 Bosch first started its operations in Vietnam in 1994. The company has its main office in Ho Chi Minh City, with branch offices in Hanoi and Da Nang, and a Gasoline Systems plant in the Dong Nai province to manufacture pushbelts for continuously variable transmissions (CVT) in automobiles. In addition, Bosch operates a software and engineering R&D center (Robert Bosch Engineering and Business Solutions Vietnam Co., Ltd), as well as an automotive R&D center for mobility solutions in Ho Chi Minh City. In fiscal 2016, Bosch recorded consolidated sales of about USD 99 million (86 million euros) in Vietnam, achieving a year-on-year growth of more than 40 percent. Total net revenue, including sales to non-consolidated companies and internal deliveries to affiliated companies, stood at USD 322 million (280 million euros). As of December 31, 2016, Bosch employed more than 3,000 associates in Vietnam. Bosch has diversified businesses in Automotive Aftermarket, Automotive Electronics, Drive and Control Technology, Packaging Technology, Power Tools, and Security Systems in Vietnam.
News & Image: Duong Kim Thuy Linh
Translator: Duong Kim Thuy Linh