On the morning of May 29, VNU-HCM, together with VNU Center for Education Accreditation (VNU-Hanoi) held the ceremony to announce the decision and handed over the certificate of quality control for University of Information Technology and 3 other members of VNU-HCM.
Dr. Nguyen Hoang Tu Anh - President of IT University received the certificate.
Attending the ceremony, there were Assoc. Prof. Huynh Thanh Dat - Member of Central Party Committee, Secretary of Party Committee, President of VNU-HCM; Prof. Dr. Nguyen Quy Thanh - Director of VNU-CEA Educational Quality Assurance Center, VNU-HCM Vice Presidents, representatives of the Management Board of the member universities, representatives of boards under VNU-HCM. , The Center for Quality Assessment and Testing, and a large number of lecturers and students of VNU-HCM member schools.
Speaking at the ceremony, Assoc. Prof. Nguyen Hoi Nghia – Vice President of VNU-HCM said "Developing the quality assurance system was considered in the first days of VNU-HCM. Quality assurance plays a very important role, helping the units to identify their strengths and weaknesses to improve. VNU-HCM has 44 programs evaluated, 30 AUN-QA compliant programs "(accounting for 50% of AUN-QA programs nationwide).
Speaking to congratulate the 4 member universities, Assoc. Prof. Huynh Thanh Dat - Director of VNU-HCM said that this is evidence of the rise of quality education VNU-HCM. Assoc. Prof. Huynh Thanh Dat committed to create all conditions for support, connecting the member schools to improve the quality of education.
Associate Professor Huynh Thanh Dat delivered the speech at the ceremony
At the ceremony, Dr. Nguyen Hoang Tu Anh - President of UIT also thanked the Board of Directors of VNU-HCM; The Center for Testing and Evaluating the Training Quality of VNU-HCM; External evaluation experts and especially the contribution, coordination, cooperation of cadres, students throughout the University. This achievement is the result of the efforts, solid unity in the entire leadership, staff and students of the University with the goal of constantly improving the education quality, showing the role and responsibility of the University with students and society.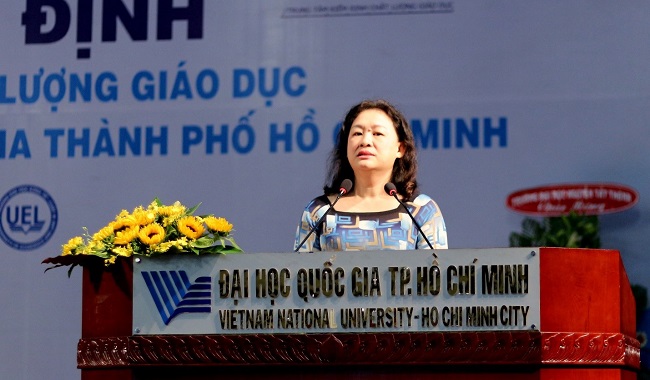 Dr. Nguyen Hoang Tu Anh spoke at the ceremony
At present, VNU-HCM is leading in the country about the number of programs which are reached the standard of regional and international quality. According to the plan, by 2022, all VNU-HCM units will be evaluated by AUN.
News: Dang Van Em