On the afternoon of May 17, 2017, at the University Medical Center HCMC, a memorandum of understanding was signed between the University Medical Center HCMC (UMC) and the University of Information Technology (UIT). This signing ceremony aims to build a cooperative relationship between the UIT and the Hospital in Vietnam.
Attending the meeting, on the side of the UMC: Assoc. Dr. Nguyen Hoang Bac, Director; Heads of the units such as General Planning, Nursing, Quality Management, Science and Training, Administration, Social Work, Organization of Officials, Information Technology, Accounting financial.
For UIT's side: Dr. Nguyen Hoang Tu Anh, Rector; Heads of units such as: Academic Affairs Office, Multimedia Communications Laboratory; Information Systems Laboratory.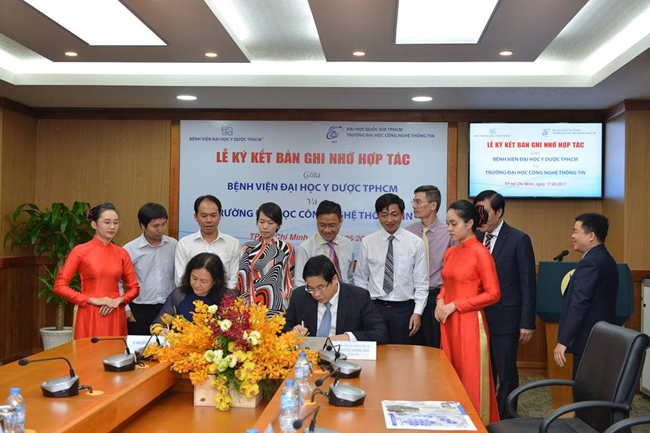 Leaders of UIT and UMC signed a memorandum of understanding
The cooperation agreement between UIT and UMC aims to build a strong partnership and promote the relationship between the two units, serving the common interests of research and teaching. According to the content of the MOU, UIT will provide young and dynamic IT training resources, research into many projects to create effective information technology products for both parties in operating activities.
According to Assoc. Dr.Nguyen Hoang Bac, applying information technology in medical examination and treatment is the development orientation and the backbone of the hospital, such as replying via text message, email, telephone, patient health monitoring. To implement these applications, the hospital needs to combine with the UIT to work together to build an information technology system to improve the quality of medical examination and treatment services for patients better.
At the end of the meeting, Dr. Nguyen Hoang Tu Anh expressed thankful to the Board of Directors and Hospitals for the reception. She also affirmed that the UIT and UMC will develop cooperative relations to new heights, and achieve the goals set by the two sides.
This signing ceremony is the starting point for the cooperation between the UIT and the UMC, promising to bring about practical benefits for both parties.
About University Medical Center HCMC:
The University Medical Center HCMC was established on the basis of the merger of the General Clinic of the University of Medicine and Pharmacy. At present, the hospital belongs to Ho Chi Minh City University of Medicine and Pharmacy. The hospital is a combination of hospital and school. Scientific research activities in medicine are strongly developed. The hospital is developing information technology in operating, connecting hospitals with patients. The hospital has more than 700 doctors, medical experts are professors, doctors, masters with professional skills. In addition, the hospital is transferring technology to other hospitals.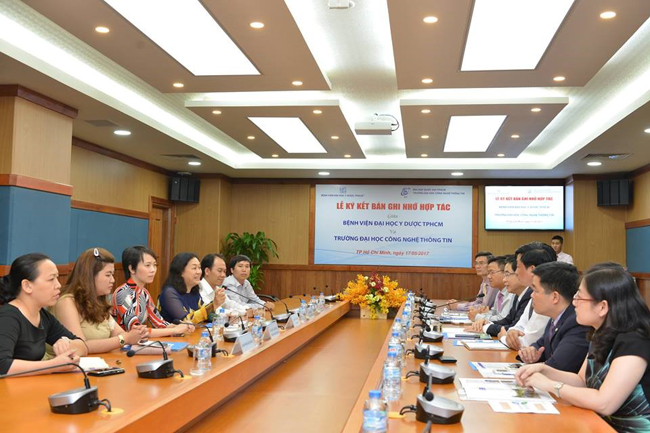 UIT and UMC discuss about the cooperation
Representatives from the UIT and UMC take souvenir photos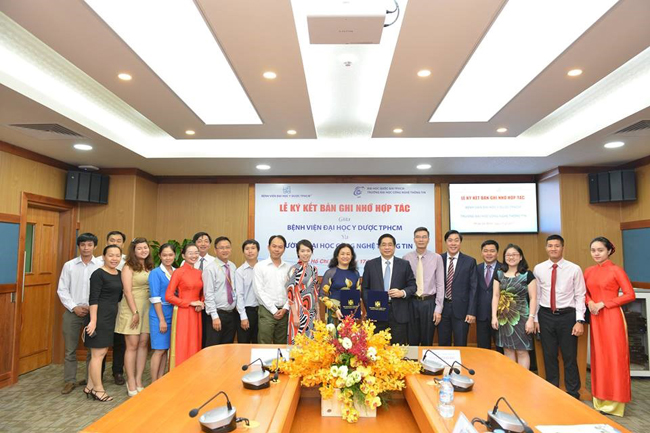 Representatives from the UIT and UMC take souvenir photos
Dr. Nguyen Hoang Tu Anh receives a souvenir from the hospital
News: Dương Kim Thùy Linh
Photos: UMC