The flag salute is a profoundly sacred and esteemed ceremony observed by every nation. Each time we salute the flag, we stand beneath the national flag of our beloved country—the place where we were born and raised. The national anthem resonates, echoing the heroic spirit of our people. With every flag salute, we deepen our love and pride for our homeland. Recognizing the significance of this noble tradition, the school youth union announces the weekly participation in the flag salute ceremony every Monday morning, as follows:
Time: 8:00 AM every Monday.
Location: Flagpole area of the University of Information Technology.
Participants: Officials from all levels of the Youth Union; Youth Union members, and students currently studying at the university.
Dress code: Smart attire, wearing either the Vietnamese Youth Union uniform, the Vietnamese Student Union uniform, or a T-shirt with the university logo.
Dear Youth Union members, please make an effort to spare some time to join the weekly flag salute ceremony. Let's together express our patriotism!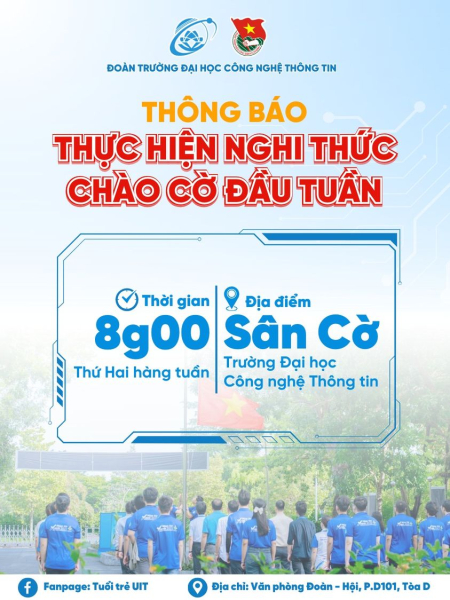 For more details: https://www.facebook.com/tuoitre.uit/posts/pfbid0HipfRHWQrra2Fn2zJLy9G9X...
Written by: Hai Bang
Translated by: Ngoc Diem