In the morning of August 21st 2017, UIT held a ceremony to announce Decisions on appointing and re-appointing the management leaders.
Attending the ceremony were Dr Nguyen Hoang Tu Anh, President; Associate Prof. Dr Vu Duc Lung, Vice President; Dr. Nguyen Tan Tran Minh Khang, Vice President; and other management leaders.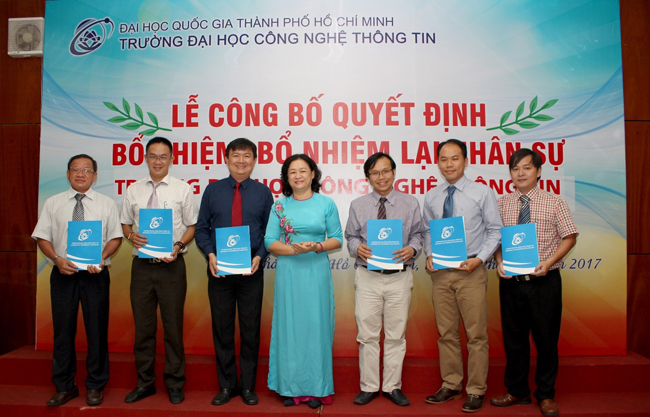 Dr. Nguyen Hoang Tu Anh handed over Decisions to the new Deans and Heads of Departments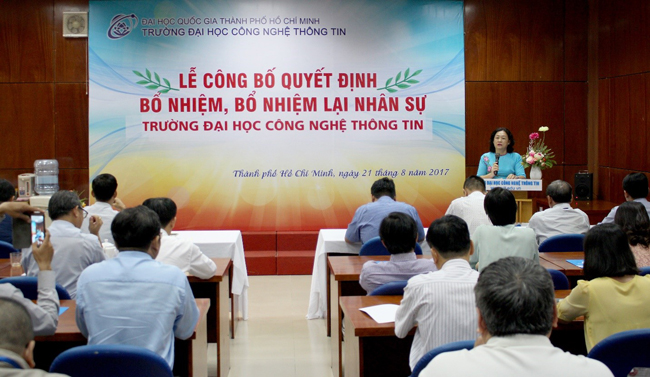 Dr Nguyen Hoang Tu Anh made a remark to congratulate new management leaders
Making a remark at the ceremony, Dr Nguyen Hoang Tu Anh congratulated new management leaders on their appointment and re-appointment of the position. President Tu Anh expressed her wish that their management would contribute to UIT's progressing success over recent years. The Industry 4.0 and Start-up set a new trend and opened opportunities to all, the management leaders played important roles by contributing their enthusiasm, professionalism, and taking all the opportunities.
Dr Ngo Duc Thanh, a new Dean of Computer Science Faculty, spoke on behalf of the new management leaders made a solemn promise to contribute to the development, promote the ability, enthusiasm, creative, and maintain unity to carry out UIT's missions and strategic tasks.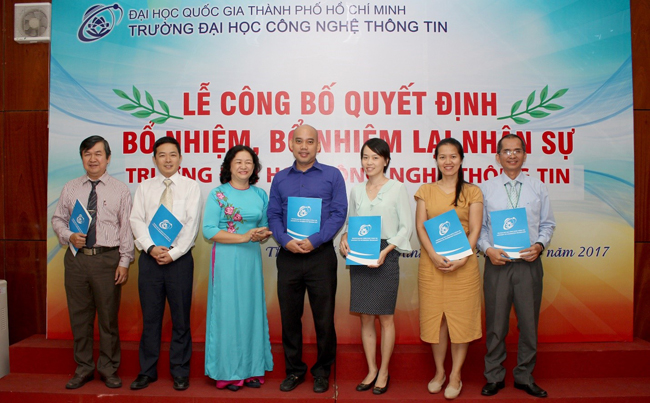 Dr Nguyen Hoang Tu Anh handed over Decisions to new heads of Offices
Management leaders took a picture
News: Duong Kim Thuy Linh
Image: Nguyen Minh Nghia
Translator: Duong Kim Thuy Linh