April 04th – UIT received the AUN assessment's results for the Computer Science Program. According to the announcement from the AUN's experts, the program was scored 5 over 7, and officially met the AUN-QA standards.
UIT has 3 AUN-standardized programs: Information Systems, Computer Networks and Communications, Computer Science were certified in 2016, 2018, and 2019 respectively.
January 09th & 10th, UIT welcomed the experts from the ASEAN University Network (AUN) to conduct their assessment towards the Computer Science (CS) program.
The assessment ended with the experts' evaluation to the CS program on its strengths. They included: the program was built with a reasonable structure in line with UIT's visions and strategies; the program was fully disseminated to stakeholders; its teaching and learning's methodologies were compatible with the university's output standards for learners to do lifelong learning. In addition, the program equipped students with knowledge, skills and attitudes that would suit their requirements and integrate quickly into the business environment. Regarding to their evaluation of activities, the delegation highly appreciated the teaching staffs who were dynamic, enthusiasm, well supporting; UIT had modern and adequate facilities serving teaching, learning and living, as well as an effective UIT management system; smooth coordination mechanism among offices; internal quality assurance process was implemented, etc.
AUN-QA is a set of criteria which was issued in 2004 by the ASEAN University Network. Its objective is to promote quality assurance at universities in ASEAN regions and towards credit transfer from standardized programs between universities within the network.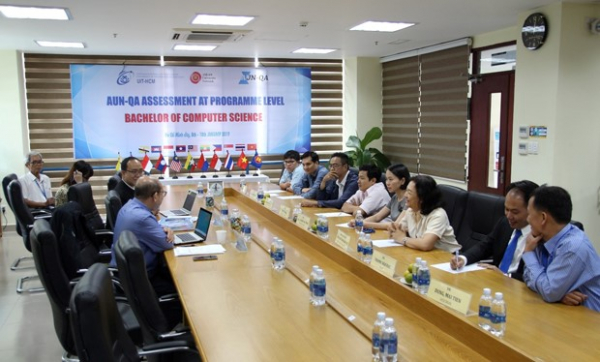 AUN experts are working with UIT's leaders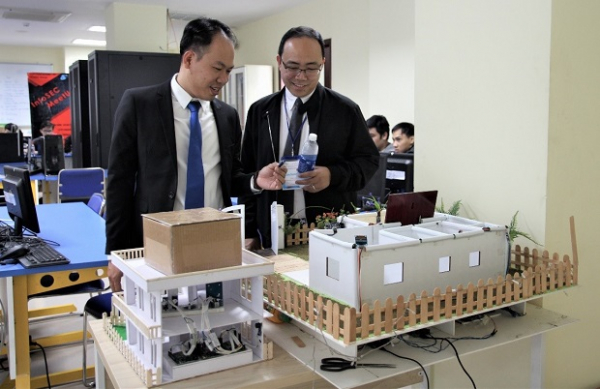 AUN experts are working with CS's Dean
AUN experts are taking pictures with UIT's leaders and lecturers
Vietnamese & English news: Duong Kim Thuy Linh
Photo:  Nguyen Minh Nghia