On the morning of March 13, 2018, University of Information Technology had a meeting with representatives of Japanese companies to discuss about job opportunities in the field of information technology in Japan.
Attending the meeting, Mr. Phan Tuan Tai, Director of CityNow Company; Mr. Fujita, CEO of DCWorks Japan; Mr. Jun Maruyama, representative of Recruit Japan; and Mr. Fujihara, representative of Nijibox Japan Representative.
Representatives of University of Information Technology, Assoc. Prof. Vu Duc Lung, Vice Rector; Dr. Nguyen Anh Tuan, Dean of Department of Computer and Communications Networks; TS. Nguyen Luu Thuy Ngan, Head of Academic Affairs Office.
This session aims to discuss cooperation on recruitment, employment opportunities for students in the IT industry, orientation to use products of students in enterprises, especially the products of Computer Networks and Communications faculty students.
At the end of the working session, representatives of IT companies and UIT wished to promote cooperation for IT students to work in the international environment.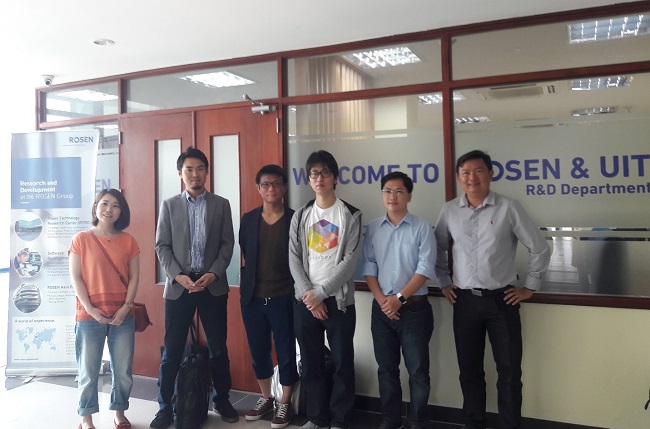 Delegation of Japanese company taking picture in front of Rosen
Photo: Như Quỳnh
News: Dương Kim Thùy Linh