On May 26th, 2016, at the Lecture Hall 1 of The University of Information Technology – VNUHCM (UIT) took place the opening ceremony and announced the topic of the game UIT Hackathon 2018. Game UIT Hackathon 2018 attracted 73 teams Contested with 325 candidates from 22 universities, colleges and IT training centers through the country.
Game UIT Hackathon is a game programming contest and mobile application for students across the country who share their passions, skills and creativities. This year, the marathon is exclusively for programmers with the theme "Anti - Violence".
The contest received support from 18 centers, sponsored enterprises, increased the number of awards to 16 awards - and raised the total value of the prize money up to 75 million, two tours to the headquarters of Facebook, Unity and Google in Singapore and many other valued gifts.
Throughout the 24-hour design and finishing process, teams take full advantage of the time spent creating sketches; dividing proceeds in stages to create quality products and is tied to the theme of "Anti-Violence".
The teams are competing
Trong suốt 48 tiếng, sự kiên trì, chăm chỉ tham gia đi đấu của các đội. Sáng 27/5/2018, Ban tổ chức chấm điểm đánh giá sản phẩm để chọn TOP 10 đội thi xuất sắc nhất, có sản phẩm chất lượng tốt nhất để tham gia vào vòng chung kết. Hơn 70 sản phẩm tham dự khiến cho Hội đồng chuyên môn và mentor hết sức cân nhắc, thảo luận, tranh luận nghiêm túc để chọn lựa TOP 10.
Overview of the Finals and Awards Ceremony
The Jury Board awards the following prizes to the teams:
First Prize - 30 million VND and two slots to visit the Facebook office, Unity, Google and the App Summit SEA and Athena Studio in Singapore: HUFI1 Team
 Second prize - 15 million dong: FOOCO team
Third prize - VND 7 million: WAO team
Gameloft's Choice - 6 million: LAST MINUTE
Mentor Choice Award - 4 million VND: Team FIREWORKS
Best Innovatuve Idea Award - 3 million VND: THE EXTERMINATORS team
The 1st, 2nd and 3rd Prize Trophies - each is a Kindle PaperWhite, belongs to 3 teams SUPERSE, PMCL2015.1, GAME 30 CU.
5 Encouraging Prizes - 2 million worth of prizes belong to 5 teams: SUPERSE, PMCL2015.2, SH3T, GAME 30C, US THE SHRIMP.
Some photos of the contest: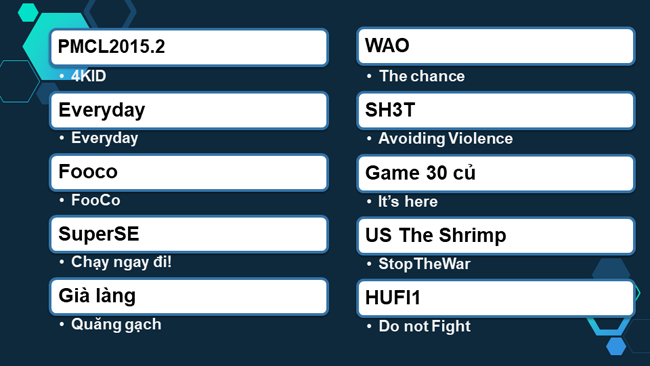 List of TOP10 participants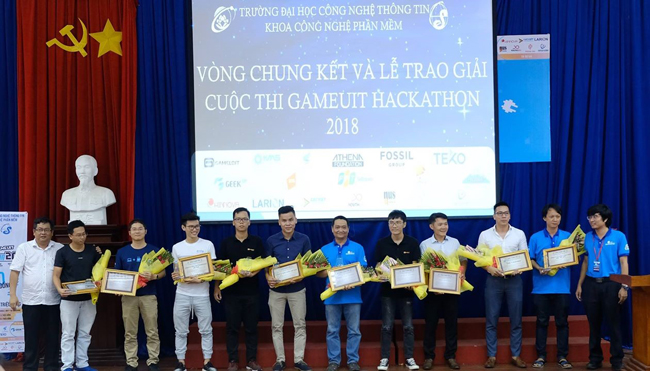 Doctor Nguyen Tan Tran Minh Khang - Vice Rector, MSc. Pham Thi Vuong - Head of the organization gives  flowers and thank you letters to the business co-organizers of the contest
Assoc. Prof. Vu Thanh Nguyen - Dean of Software Engineering and MSc. Le Thanh Trong - Deputy Head of the organization gave flowers and letters of thanks to the sponsoring enterprises
Team HUFI1 won the first prize
FOOCO won the second prize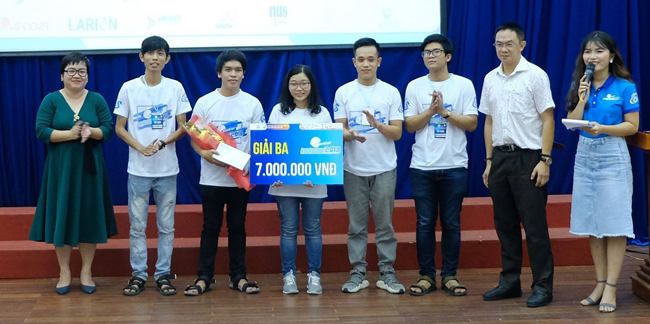 The WAO won the Third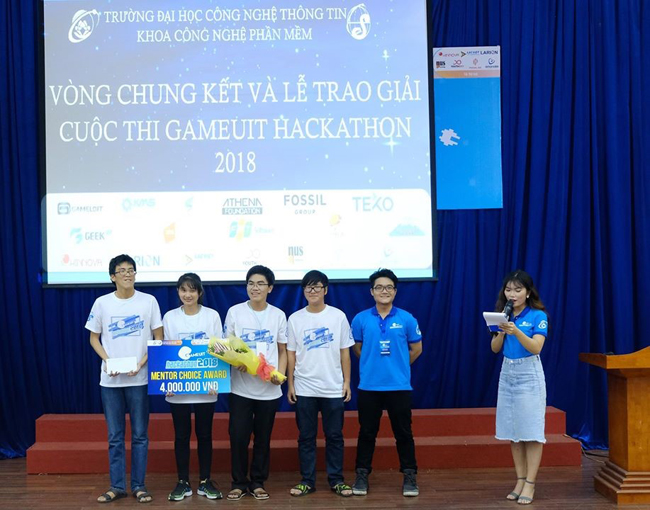 FIREWORKS won Mentor Choice Award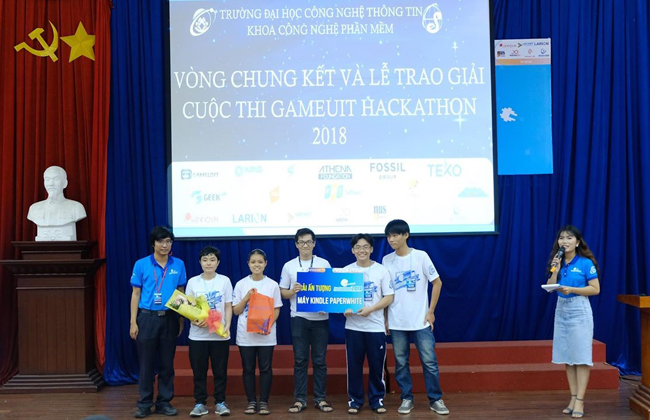 SUPERSE won Impressive Prize 1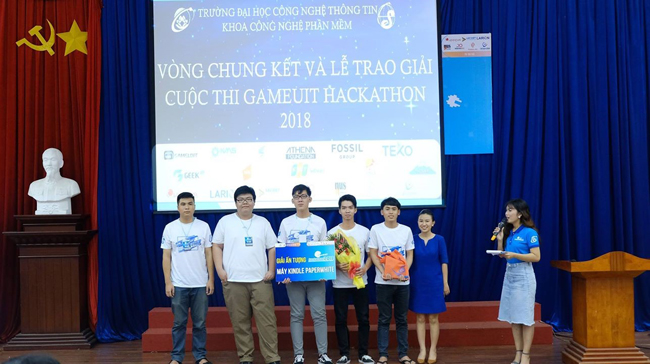 PMCL2015.1 won Impressive Prize 2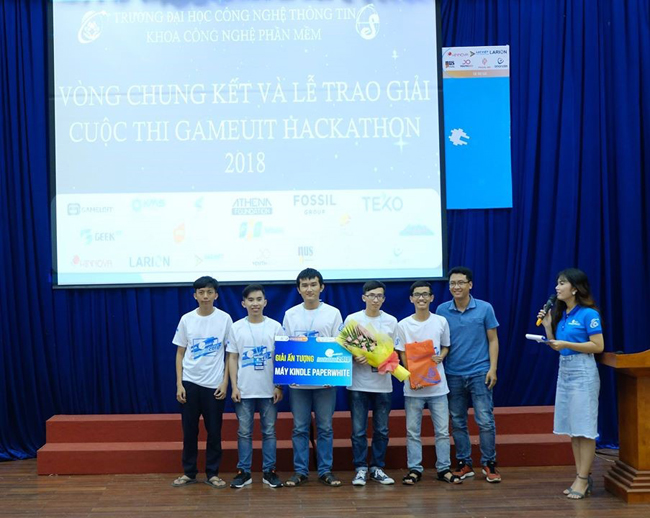 GAME 30 CỦ won Impressive Prize 3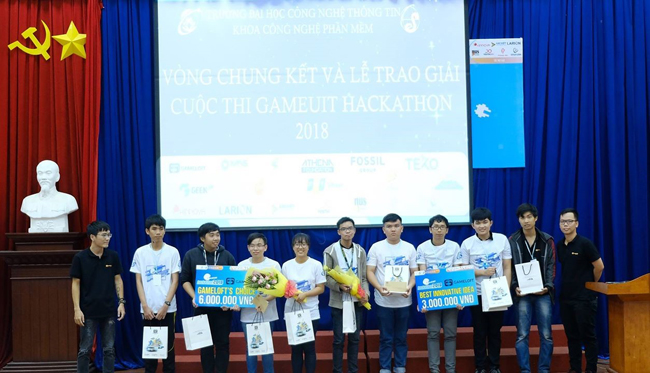 Teams are awarded Gameloft's Choice and Best Innovative Idea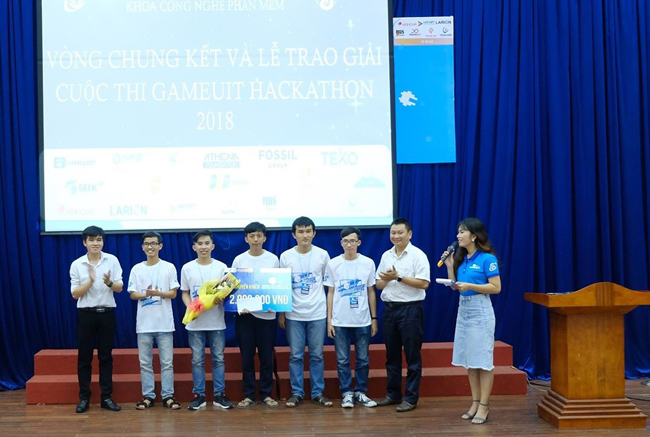 Teams are awarded the Consolation Prize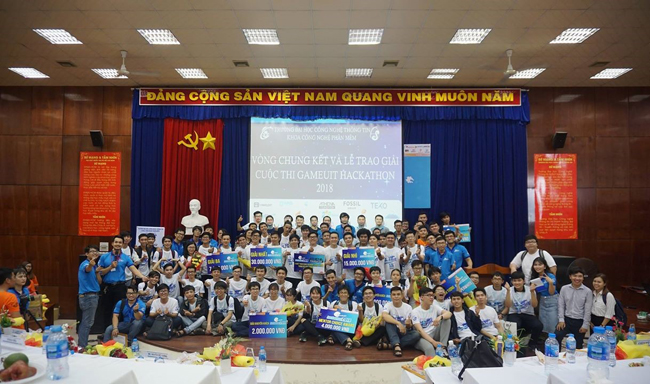 Teams take photos after the awards ceremony
News & Photos: GameUIT Hackathon 2018 Communications Department