In the afternoon of March 16, 2018, Faculty of Computer Engineering held a discussion with representatives of Hyundai Mobis Technology Center in India and IKorn Solutions Solutions Co., Ltd. to study science and technology potentials, and to explore the scale of facilities and human resources.
Attending the meeting, Mr. Kim Sang Hyung, Managing Director - Hyundai Mobis Technology Center in India; Mr. Lee Jeong Heon, Executive Director of Software Quality Assurance; Mr. Kang Min Joo, CEO - IKorn Solutions Technology Solutions Co., Ltd.
Representative of the Faculty of Computer Engineering, Dr. Nguyen Minh Son, Dean of Faculty, and representatives of the Department of External Relations.
Dr. Nguyen Minh Son and representatives of Hyundai Mobis Tech Center in India and IKorn Solutions Ltd. discuss research cooperations
At the meeting, Dr. Nguyen Minh Son discusses the cooperations of Huyndai research labs located at the University of Information Technology, aiming to create more opportunities for students to develop scientific researches and create applied products adapting to the practical needs of businesses and society. On the sidelines of the meeting, the delegation was introduced the achievements of the Faculty, meet and discuss with students who are studying and researching at the laboratory of the Faculty of
Computer Engineering. In addition, the delegation to visit the Data Center, Rosen Company to understand the ability and cooperation of University.
Delegation seeing the achievements of Faculty
Delegation at Computer Engineering Lab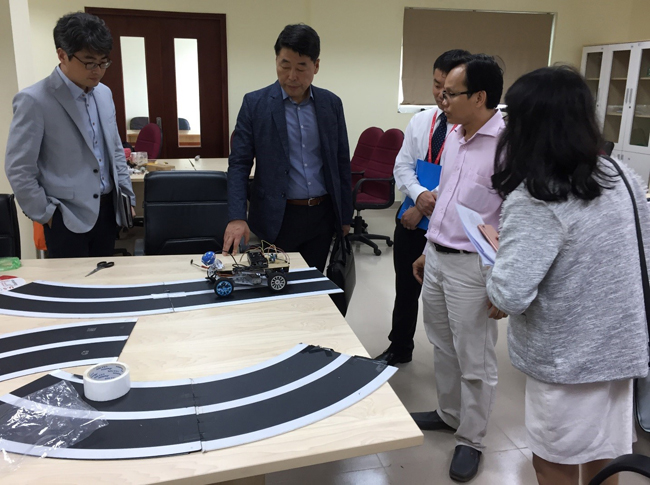 Mr. Kim Sang Hyung discusses with Dr. Nguyễn Minh Sơn about auto cars of students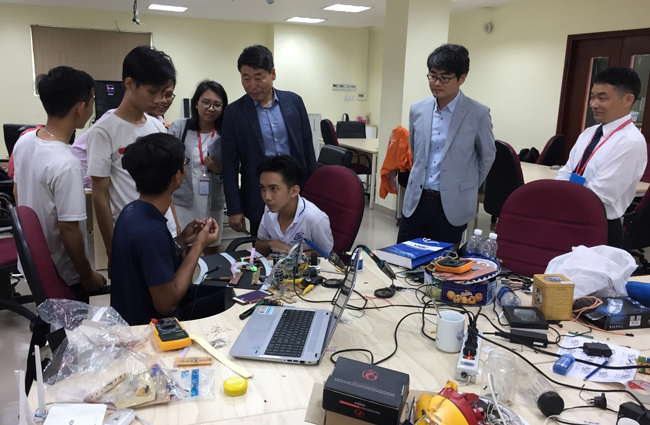 Computer Engineering students presents on research products for delegation
The Hyundai Mobis Technology Center in India (MTCI) is part of the Hyundai Group and is a leading unit in the research, development and application of software for Hyundai vehicles in the future. MTCI works with Hyundai Mobis Technology Center in Korea to develop platform-optimized solutions such as multimedia communications, Driver Assistance System (DAS), and auto cars.
The Hyundai Group has four overseas Hyundai Engineering Centers: India, USA, Germany and China, operating in parallel with the main center in Korea.
IKorn Solutions is a 100% Korean owned software company, officially entered the Vietnamese market. Services for the market and partners include: software development and application of information technology, large data mining services, artificial intelligence - machine learning and many other supporting services.
News & Photos: Duong Kim Thuy Linh