On May 27, 2017, UIT NET Day - a computer networks and communications event was organized by the Union of Computer Networks and Communications Faculty, together with the collaboration of NEO Training Center, took place at the University of Information Technology (UIT) - VNU-HCM.
UIT NET Day 2017 has a series of 7 main activities including NET Talk, NET Lunch, NET Share, NET Show, NET Interview, NET Tour, NET Game, attracting the participation of more than 350 students and speakers, alumni, experts from businesses and representatives of donors.
NET Conversation – Exchange between speakers and students on NET topics.
Dr Nguyen Anh Tuan, Dean of the Faculty of Computer Networks and Communications, shared: "The current position of the computer network is very important because that any field can also use the computer network for data exchange. The goal of NET Day is to consolidate career orientation for students and connect generations to learn more experiences. Besides, there is also opportunity to meet and exchange for young and talented human resources of UIT students with employers."
Dr. Nguyen Anh Tuan - Dean of Computer Networks and Communications opens UIT Day 2017
In the morning NET Talk, guest speakers joined in sharing about 5 interesting topics related to Computer Networks such as:
An overview of technologies - modern computer networks services with speakers: Assoc. Dr. Le Trung Quan - Head of Computer Networks Department and Mr. Pham Dang Anh Khoa - Global Operations Center KDDI HCM-GNOC
Cloud Computing & Virtualization with speaker Nguyen Pham Tien Phuong - Forberg IT Sweden
Database for Cloud presented by Mr. Le Xuan Truong - Oracle Expert
Full Stack Web Development by Pham Thanh Quoc - Lead Software Engineer at VNG, alumna UIT course no.1
IoT Applications and How to Approach from Student's Perspective presented by Bui Quoc Thai - Project Manager, Head of R & D at TMA Solutions.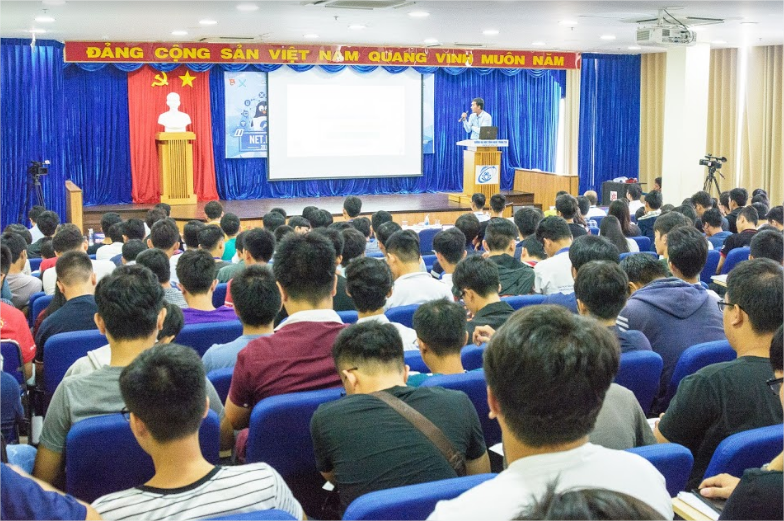 Hall E full of seats very early because of the attention of students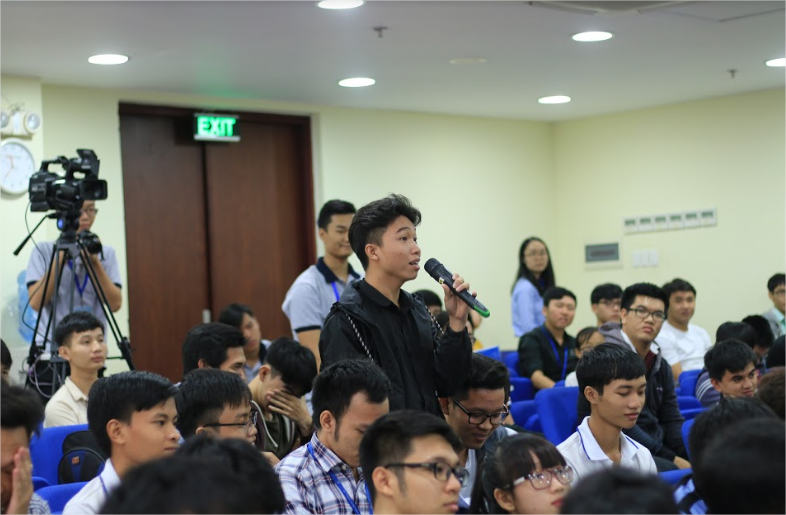 Students actively ask questions to exchange with the guests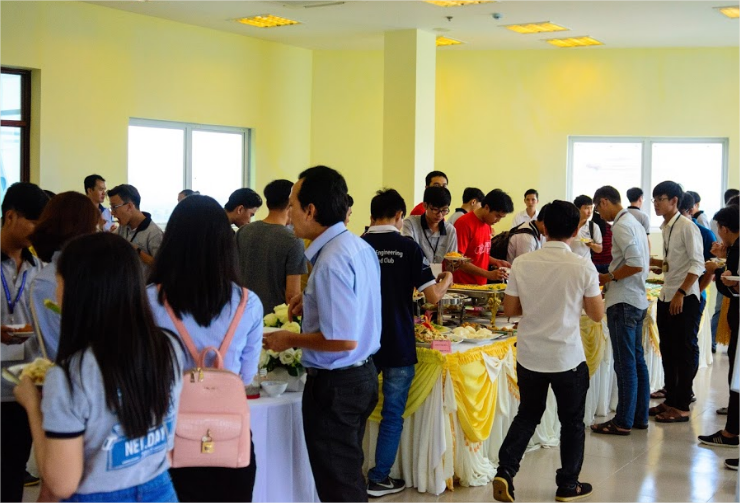 NET Lunch - An informal luncheon between professionals, guests and students
In the afternoon, NET Day 2017 continued with a Career Orientation on Computer Networks with the participation of representatives from PwC Vietnam TMA Solutions, IT Center - South Asia Bank and representatives of alumni. NET Share was taken place in the friendly environment of over 200 students, helping to answer the concern of students in the careers orientation for their future.
Mr. Le Nguyen Hung - Head of Consulting and Auditing PwC Vietnam is sharing the orientation of career opportunities to students.
After NET Share, NET Day 2017 continued with 4 activities on the 4th floor - Building E, attracting many students and representatives of participating businesses such as NET Show, NET Interview, NET Game.
NET Show with demonstration, introducing 12 innovative products of UIT student on Computer Networks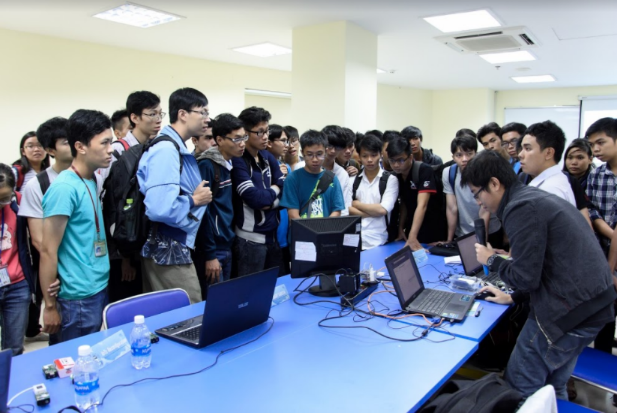 12 innovative products by the UIT students attracted a lot of people concerned.
In addition to the NET Show, in the 4th floor rooms, PwC Vietnam, TMA Solutions and IT Center - South Asia Bank also held recruitment interviews, directly interviews with students, receiving the attention of many candidates.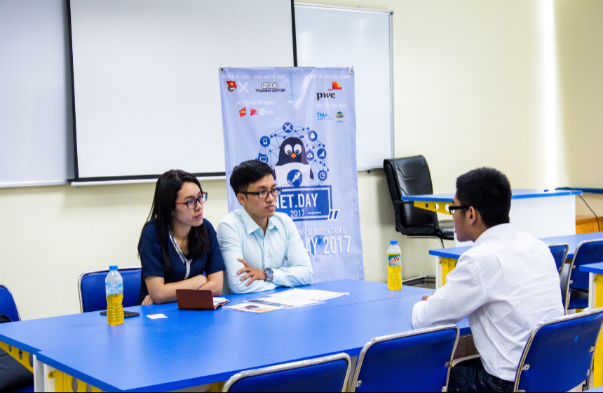 Professionalism in the interview between PwC Vietnam recruiters and students.
After the NET Show, students was competing in the NET Game Network Equipment Competition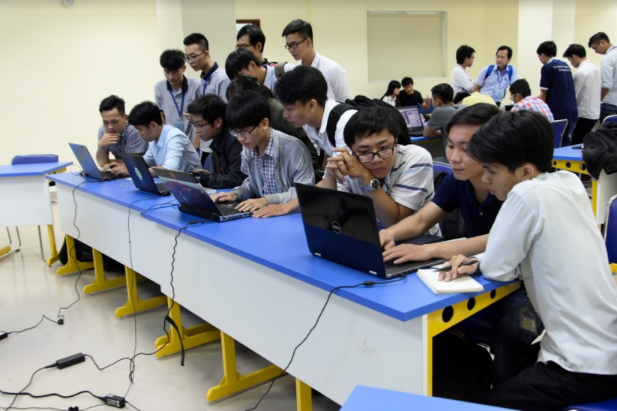 NET Game - Network equipment configuration contest is fierce between the teams.
At the end of NET Day 2017, representatives of the guests and students have the opportunity to visit, explore the network infrastructure at UIT through the computer network laboratory and Data Center UIT.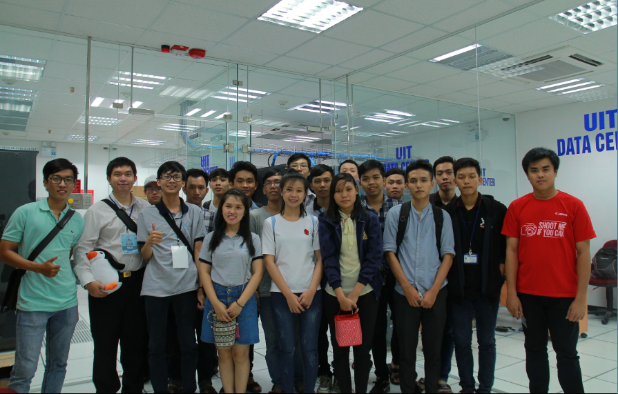 NET Tour - a special opportunity for students to visit the Data Center (UIT) and Computer Networks and Communications Laboratory.
The UIT NET Day 2017 has created a comfortable, closed, and useful environment for students to pursue computer networks fields with a new, more engaging experience both professional and professional skills in the future.
The event was sponsored by PwC Vietnam (Diamond Sponsor), TMA Solutions, IT Center - South Asia Bank and Vijaco.
News – photos: Union of Computer Networks and Communications Faculty
Source: suctremmt.com