December 14th, 2018 - University of Information Technology (UIT) held an Opening Ceremony and Announcement of the Decision on establishing and appointing the Dean of the Information Science and Engineering (ISE) Faculty. This meaningful event marked a new milestone after 12 years of UIT's founding.
On the VNU-HCM's side, there was MSa. Nguyen Thanh Nguyen, Deputy Head of External Relations Department, and Faculty's enterprise partners;
On UIT's side, there were President's Board, Faculty Deans, Heads of Offices, and ISE Faculty's lecturers.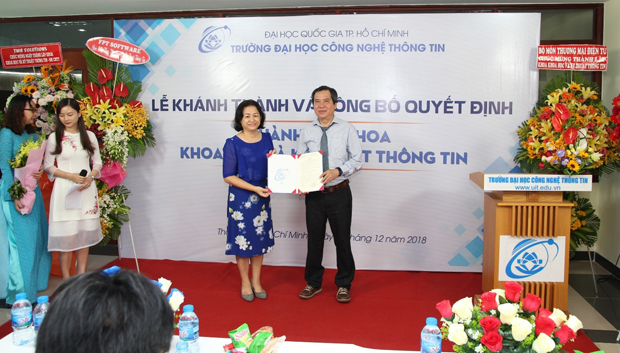 Associate Professor Dr. Nguyen Hoang Tu Anh is handing the Decision to establish the Faculty
Speaking at the Ceremony, Associate Professor Dr. Nguyen Hoang Tu Anh – President congratulated ISE Faculty. President Tu Anh emphasized that ISE Faculty got achievement in training students within 5 years. This event was the Faculty's important milestone in line with UIT's development. President Tu Anh expected that ISE Faculty would develop further, become one of the leading Faculties in the field of Data Science, Information and Communication Technology in Vietnam, as well as in the region.
ISE Faculty was previously the ISE Department under Decision No. 724/QD-DHCNTT on November 9th, 2018 which was signed by UIT's President. ISE Faculty joined the other 5 Faculties at UIT. The Faculty was given tasks to train undergraduates, and graduates in Data Science, Web and Mobile Technology, build activities and organize scientific researches in specialized fields.
Photos at the Ceremony:
Ribbon cutting ceremony to launch the ISE Faculty
Newly-appointed Dean is giving a speech
Heads from Faculties, Offices, and Guests are taking a picture 
Translator: Duong Kim Thuy Linh
Photo: Nguyen Minh Nghia