June 6, 2019 – A ribbon cutting ceremony was held to open the FSoft – University of Information Technology Automotive R&D Laboratory (Fsoft-UIT) at the University of Information Technology (UIT).
The Fsoft-UIT was the result of an effective cooperation for years between UIT and Fsoft. The Fsoft-UIT performs following tasks: research and develop technologies in accordance with both Fsoft and UIT's strategic directions; train a human force to serve researching and developing in the field of the Automotive và E-Vehical; contribute to socio-economic development when Vietnam brings scientific and technological advances together.
Also at the Ceremony, the leaders signed a contract on the FSoft-UIT's establishment.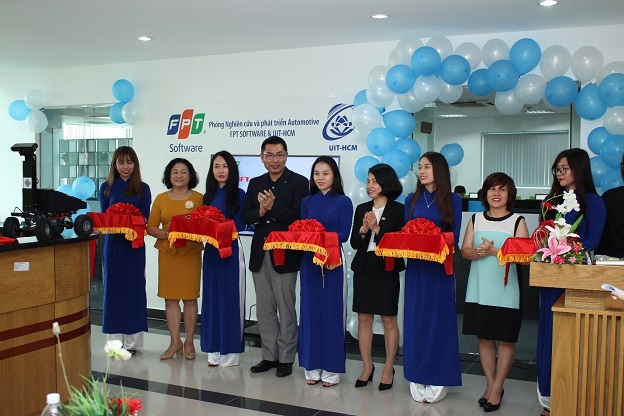 Leaders from UIT and FSoft are holding a ribbon cutting ceremony
Speaking at the ceremony, Associate Prof. Dr. Nguyen Hoang Tu Anh – UIT's President said that the establishment of the Fsoft - UIT was a turning point in the cooperation between the two sides which would create Vietnam-made products and reach out to the world.
Ms. Tran Thi Kim Phuong – Fsoft's Director appreciated that this collaboration helped found new facilities and provide more staffs for Fsoft; benefit UIT's students, its lecturers and Fsoft's customers.
The FSoft - UIT is the third lab on UIT campus. The Rosen Research and Development Laboratory, and the Citynow – UIT Research and Development Laboratory were established in 2017 and 2018 respectively.
English news: Duong Kim Thuy Linh
Photos: Nguyen Minh Nghia