UIT SEC DAY "2017 - The first UIT information and security meeting held at UIT by Computer Networks & Communications Faculty in collaboration with UNS, TKOX team took place on 18/3 / 2017 with the monopoly sponsorship of PwC Vietnam - one of the four leading audit firms in the world.
With two main activities in two sessions is SEC Talk - exchange, sharing security and SEC Game - Contest CTF for UIT students, SEC Day 2017 has attracted nearly 300 students  and  alumni,  speakers, experts and guests.
SEC Talk – Conference – Talkshow about Confidence and Information Security
In SEC Talk, speakers, guests will share with students topics related to confidence which is interested. The talk show has 7 main topics
Overview about Information Security and chances for student
Speaker: Dr. Pham Van Hau – Head of Information Security Laboratory, Director of Information Security Center
Dr. Pham Van Hau opens the day with an interesting speech about Information Security in present
How to prepare your career path in Cyber Security
Speaker: Mr. Le Nguyen Hung and Mr. Nguyen Thanh Quang, Office of Networks Security Service, PWC Vietnam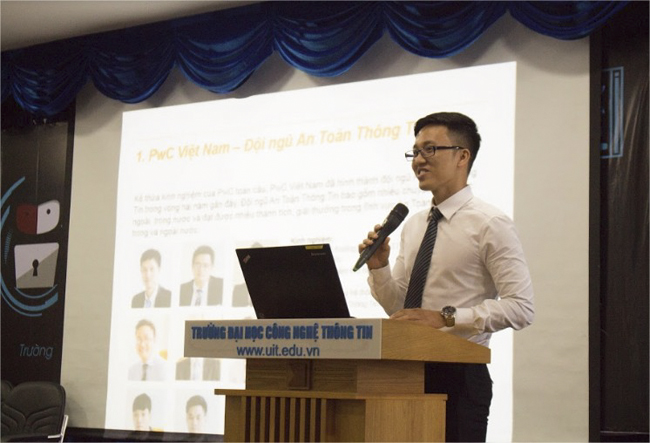 Mr. Le Nguyen Hung shares about career chances in fields of Information Security
Fifty shades of AWS (uncensored)
Speaker: Mr. Viet Nguyen and Mr. Thong Ngo from Gianty & Lazada
CTF
Speaker: Mr. Nguyen Viet Dung from TKOX Team (UIT)
Beauty

of Logs
Speaker: Mr. Nguyen Hai Long – alumni of UIT
Bug Bounty – How did i become a bug hunter
Speaker: Mr. Ngô Huy from Viet Sunshine
Shakespear in love" with Vyatta
Speaker: Mr. Nguyễn Trọng Đăng Trình from Saigon South International School
At the end of the talk, speakers and guests - Mr. Robert Trong Tran - PwC Vietnam representative, exchanged with the participants and responded to questions and concerns about Information security.
Share, exchange information with guests
SEC Game - JF Championship in Jeopardy form for UIT students
At 13h30 the same day, the SEC Game SEC Academic Day contest was held with the participation of nearly 100 students from more than 20 teams.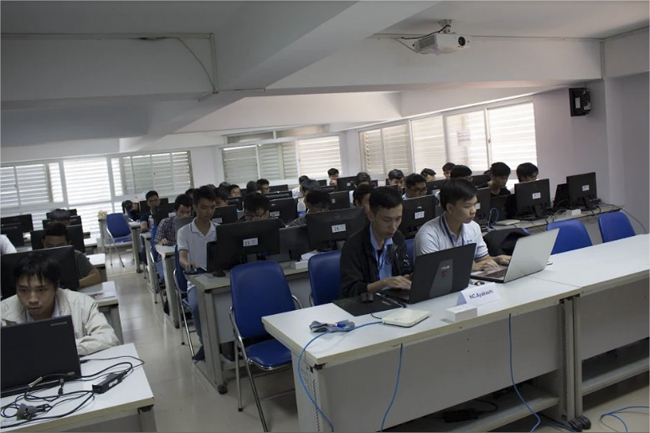 The atmosphere of competition in a test room
Most of the participating teams are students in 1-year, 2-year beginning with CTF form. SEC Game is also a chance to stimulate the academic movement for Information Security students, giving the chance to work out new classes for the bigger competition  of  UIT
The competition takes place in 180 minutes in the form of Jeopardy CTF at the C111 and A205 and uses the Cybertrain UIT system.
The final result was at 16h30 in room A205, there were 3 best teams won the prize.
First prize - H.I.S Team with 2nd year students from class ANTN2015
Dr. Pham Van Hau gave 1st prize for H.I.S team
The second prize belongs to Team 1234 from the class ANTT2016 and the third prize belongs to Team ChickenMan.
In general, the UIT SEC Day 2017 has been a great success, leaving the mark for students and guests to participate as well as stimulate the study of security for UIT students. SEC Day 2017 is also a chance to connect alumni of UIT who have experience working in large enterprises to share experiences for the next generation.
Photos & News: Computer Networks and Communications Faculty's Youth Union
Source: suctremmt.com