On the morning of May 25, 1818, at the University of Information Technology – VNUHCM (UIT), the signing ceremony was held between UIT Union and PA88 - Binh Phuoc Police.
Attending the signing ceremony, on the side of PA88 room was Colonel Ho Thanh Son, head of PA88 department of Binh Phuoc police; and the leaders of the PA88 team and police officers.
On the side of IT University, there are Assoc. Prof. Dr. Vu Duc Lung, Member of Executive Committee of Party Committee, Vice President; Doctor Nguyen Tan Tran Minh Khang, Vice President; MSc. Dang Van Em, chairman of the Trade Union, heads of units, Executive Committee of the trade unions.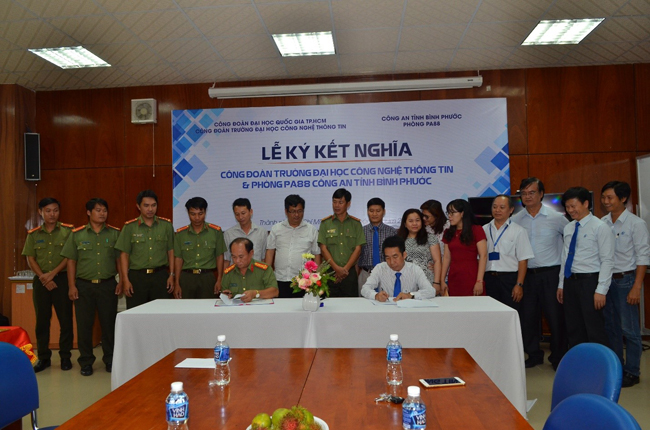 Colonel Ho Thanh Son, Head of Department of PA88 and MSc Dang Van Em, Chairman of Trade Union signed the twinning memorandum.
At the signing ceremony, the two sides agreed to implement a number of cooperative activities such as:
- Union of University of Information Technology and Department of PA88 Binh Phuoc Police regularly collaborate to organize social work programs, mobilize donations and gifts to welcome families for families, families difficult. ethnic minority people, remote areas in Binh Phuoc province.
- Through social activities to raise the awareness of every cadre, party member, civil servant and laborer, and businessmen with social responsibility, especially those in difficult circumstances. , remote areas and ethnic minority reporters, contributing to maintaining information security in the area of ​​Binh Phuoc as well as enhancing the skills of movement and volunteer between the PA88 room with Union of UIT.
- Union of UIT in cooperation with Department PA88 Public Security of Binh Phuoc organize propaganda, education and guidance of people well observe guidelines and policies of the Party, laws of the State, regulations of the locality.
- Organizing public activities, exchanges of culture and sports, annual cultural and historical sources.
- Mobilize donations from officials - employees, organizations and individuals participating in supporting social work in Binh Phuoc as gifts, clothing, notebooks, equipment. For disadvantaged students as well as difficult schools in the area of ​​many difficulties and complex, need attention, help support from Binh Phuoc.
Colonel Ho Thanh Son, Head of Department of PA88 and MSc Dang Van Em, Chairman of the Union Trade awarded the twin certificate
"The hope of the initial signing ceremony between the UIT and the PA88 Chamber is the premise of the development relationship between the two units of the University of Information Technology and Public Security of Binh Phuoc province in training for Binh Phuoc Police Force, 2 IT graduates, Master of IT and PhD in IT" Mr. Dang Van Em said.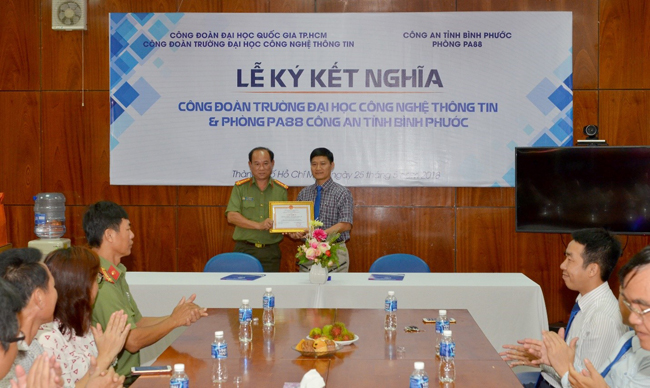 Associate Professor Vu Duc Lung, Vice President received certificate of merit from Binh Phuoc Police
On this occasion, the Binh Phuoc province's police sent a certificate of merit to UIT for five consecutive years to organize a loving spring program for disadvantaged families to welcome Tet in Binh Phuoc province annually about 70 million VND
Some photos of the signing ceremony:
MSc. Dang Van Em gave souvenirs for PA88
Leaders of two units take souvenir photos
Photo taken of 2 units
News: Dương Kim Thùy Linh