On the morning of 10th May, 1818, the conference of students of the academic year 2017-2018 was taken place at Hall E of University of Information Technology – VNUHCM (UIT). The conference is a forum for exchanges between students and school unit leaders on the learning environment, the quality of teaching, and the facilities at UIT.
The conference was attended by Assoc. Professor. Nguyen Hoang Tu Anh - Secretary of Party Committee, Rector; Dr. Nguyen Tan Tran Minh Khang - Vice Rector; The lecturers of departments, faculties, centers; Academic advisors and more than 300 students representatives of classes.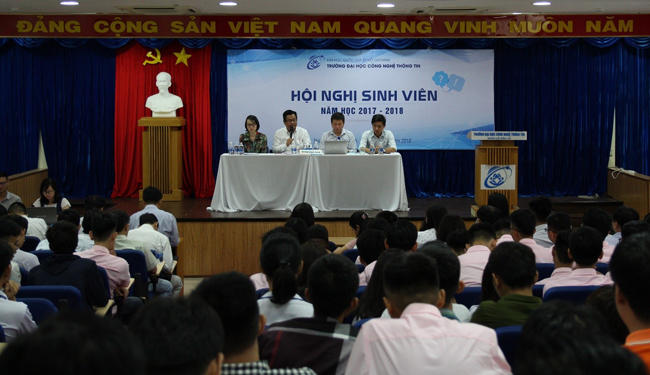 Presidium of the Conference
Opening Conference, Representative Board, Assoc. Prof. Nguyen Hoang Tu Anh welcomes all students to attend the 2017 - 2018 Student Conference. She affirms the Student Conference is an opportunity for all students to present personal ideas to contribute to UIT. At the same time, this contribution is also the responsibility of students in building a strong university, and building the prestige of the school in the education system of Vietnam, especially in information technology training systems. She hopes that the Presidium will receive honest, sincere and constructive comments at the conference.
Prior to the Student Conference, under the guidance of the Student Work Department, the students hold a faculty meeting and nominate a student to attend the school conference.
The Chairman of the Conference received direct questions and comments from the students' representatives at the conference and passed the meeting minutes of the Faculty. The issues that students are most interested in include dormitories, training, teaching, learning, foreign language output, facilities, technology, networking, etc. The heads of departments, departments, departments and representatives of dormitory VNU-HCM answered satisfactorily. At the same time, the Presidium of the Conference and the leaders received input from the delegates.
On this occasion, the school organized the award of certificates of merit to the students and teachers to guide students to achieve high academic competitions such as National Mathematical Olympiad students, ACM Computer Olympics, Eureka Awards, ...
Một số hình ảnh tại Hội nghị Sinh viên năm học 2017 – 2018

The overview of student conference in an academic year 2017-2018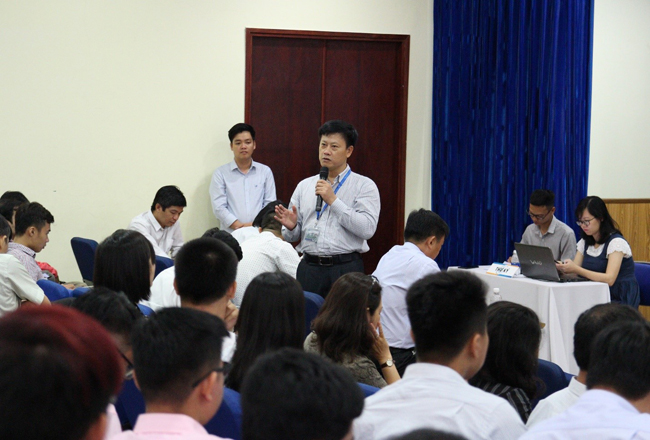 MSc. Nguyen Dinh Khuong answer questions of students about software, network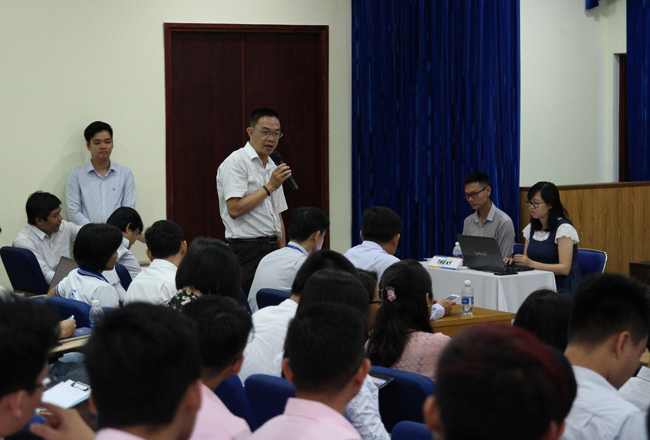 Assoc. Prof. Vu Thanh Nguyen answers students' opinions about teaching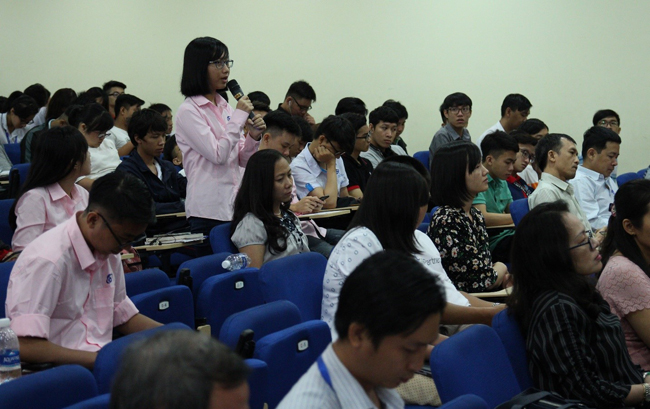 Student delegates questioned the Presidium of the Conference
Student delegates questioned the Presidium of the Conference
News: Dương Kim Thùy Linh
Photos: Nguyễn Minh Nghĩa