UIT and the other VNU-HCM university members' lecturers and students worked with other administration officials in 4 days to declutter and pack students' personal items in the Zone A and B at the VNU-HCM's dormitories. Following this activity, VNU-HCM handed over the zones with 20,000 beds in total to serve as the Ho Chi Minh City's isolation area, lest suspected exposure to coronavirus spread the fatal disease. The zones were formerly the living spaces where VNU-HCM students stayed for their university's study. They are now the quarantine spots for the people to rest and receive their health care.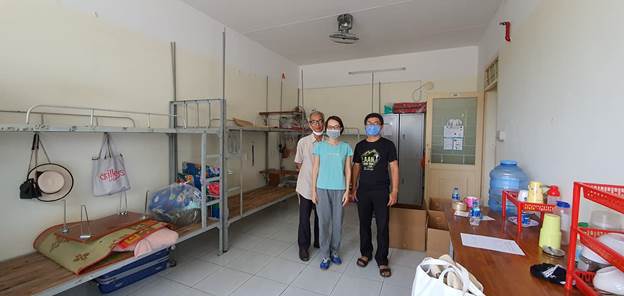 The activity which the lecturers assisted included checking, confirming, packaging, sealing, protecting the students' personal belongings in each room in accordance with the guidance of the officials from the Dormitory's Management Center. They simultaneously assured the quality of the preparation at the rooms so that the accommodation met requirements, such as sufficient bed, mats, pillows, mosquito nets and clean toilets.
In the prevention of the Covid-19 spreading, UIT lecturers gave the Dormitory 2000 carton boxes to pack students' property, more than 300 rolls of tape, 100 surgical face masks, 120 labor gloves. Along with the public service, the lecturers also delivered online classes to ensure students' scheduling education. The lecturers and UIT's management leaders were very proud and happy so as to be able to contribute in limiting the spread of the pandemic.
Translator: Duong Kim Thuy Linh