On November 15th, 2022, a ceremony was held at the Naver Vietnam Dev Center (NVDC), the first affiliated Programming Center in Vietnam of the Naver Corporation, in order to award the certificates and scholarships to UIT students. During this visit, the students also sightsaw around NVDC's working location.
At the end of August and September, NAVER and UIT cooperated to hold two Back-End and Front-End courses for 40 top UIT candidates who satisfied the NAVER's requirements. The courses were specifically tailored for UIT students and instructed by the experts from NAVER and Likelion Vietnam, the LIKELION Korea's subsidiary – specializes in training global programmers. Finally, the students completed the 5-week course and 12 out of 40 best students won scholarships from Naver.
In the afternoon on November 15, 36 students and a representative of the Computer Science Faculty attended the Certificate of Completion and Scholarship Award Ceremony for the BE, FE courses at the Naver Vietnam Dev Center. Attending the event was Ms. Tran Thuy Tien - the LIKELION representative. Mr. Park Dong Jin - CEO of Naver Vietnam who awarded the certificates to the 36 students and the scholarships to 12 students with the highest achievements.
Mr. Park Dong Jin was highly impressed with the students' ability in the courses. Speaking at the Ceremony, "UIT students demonstrated their ability to study and acquire the huge knowledge of BE and FE within 5 weeks. They are highly responsive and actively investigate. I believe that they will become skilled BE and FE programmers in the future, said Mr. Park Dong Jin."
Mr. Park was also pleased to inform that due to UIT students' exceptional ability, he made an exception and officially hired the student Trinh Ngoc Phat who was with the highest score in the BE course as a new employee. Phat was also NAVER's first new hire as NVDC precedently selected experienced engineers and programmers. Mr. Park hoped that, in the future, many more UIT students would apply for a job at Naver.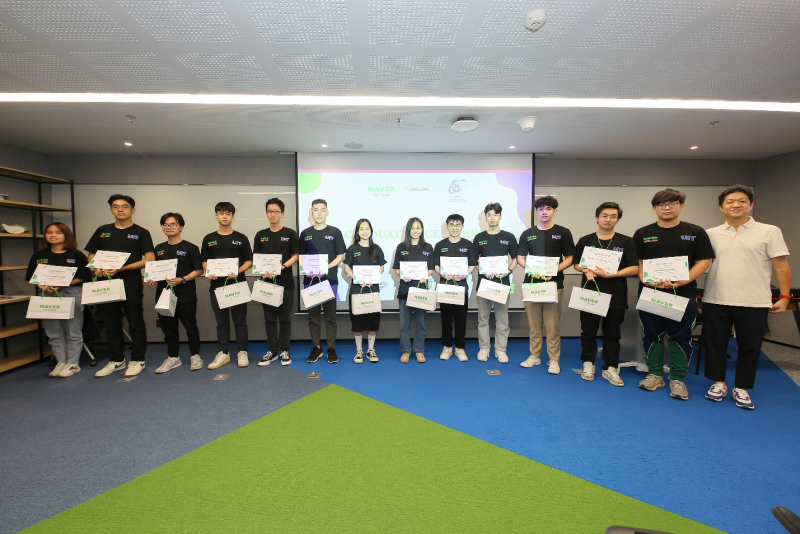 During the tour around NVDC's working location, UIT's representatives were introduced to the projects in progress, and the project leaders were eager to share their professional experiences with students, providing them with up-to-date real-world experience.
It was well known that the BE and FE courses was one of Naver and UIT's collaborative activities. More significant events were expected to occur between now and the beginning of 2023.
Naver is still looking for more programmers on the large-scale for a variety of positions to work in Hanoi and Ho Chi Minh City.
Below is detailed information: https://navercorp.vn/view/en/recruitment.html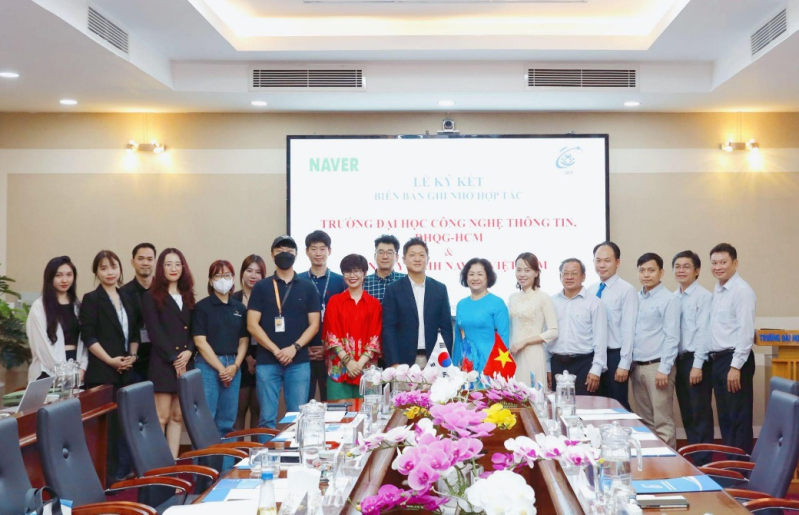 UIT and Naver signed The MOU Signing Ceremony on 25 July 2022
Picture: Nguyen Minh Nghia
Translator: Duong Kim Thuy Linh