On August of 09-10, Birmingham City University (BCU) carried out validation to 2 programs: Computer Networks & Network Security and Computer Science for the cooperation between UIT and BCU.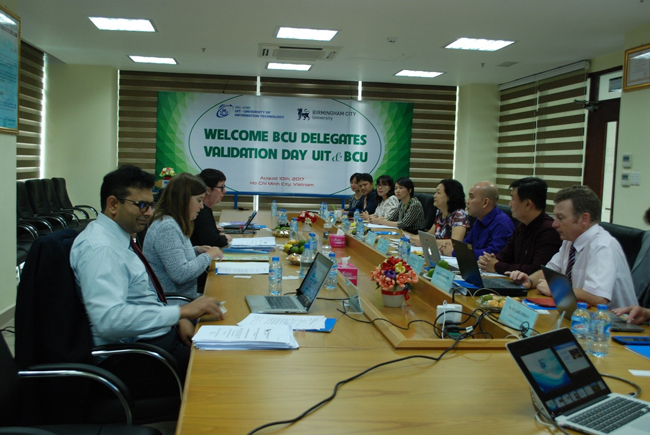 The two university's leaders discussed validation activities
In two working days, BCU delegates validated two international joint programs of the Faculties of Computer Networks and Communications and Computer Science. According to Dr. Nguyen Hoang Tu Anh, President, the two programs would give opportunities to UIT's students to study and work in an international education environment, get international degrees in IT and become an international labour force. She believed that this cooperation benefited and strengthen the relationship between the two universities.
In the meeting, by discussing UIT's management leaders, lecturers, students, BCU delegates understood UIT's development strategies, programs, teaching, study resources, online courses, and students' satisfaction. In addition, BCU delegates visited facilities at the Computer Networks & Communication Faculty, Computer Science Faculty, Information Security Laboratory, Multimedia Communication Laboratory, Datacenter, Office of Excellence Programs, Library, classrooms, ...
Dr. Nguyen Anh Tuan introduced Prof. Fiona Church, BCU's Vice President about important projects of the Information Security Laboratory
Dr. Ngo Duc Thanh talked to Prof. Fiona Church about the Multimedia Communication Laboratory
UIT's computer systems and facilities impressed and were highly appreciated. In addition, the touch-screen sensor at the Student Affairs Office also drew a lot of attention from the delegates. It showed that UIT cared to provide good service to its students.
After 2 days of working, UIT received positive feedbacks from the BCU delegates on the programs, curricula, teaching activities, service, as well as students' English language skills; last but not less important, the assistance from the service team while the delegates stayed at UIT.
BCU signed an agreement with UIT in 2016. According to the agreement, UIT and BCU jointly offered training programs in Computer Network & Network Security and Computer Science. University of Birmingham is among the best university in the United Kingdom.
Images:
The Multimedia Communication Laboratory's staff talked to a BCU delegate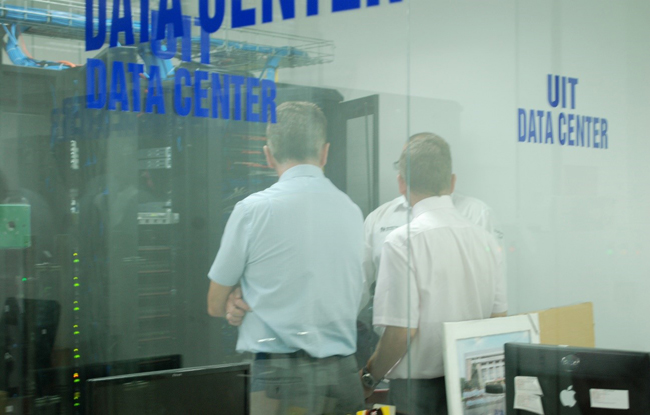 The BCU's delegates visited Data Center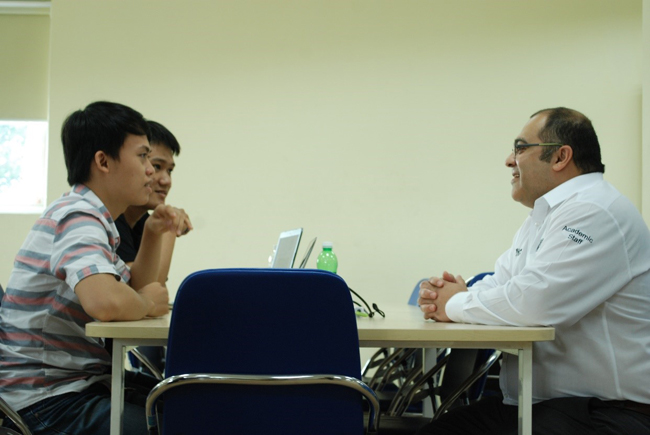 UIT's students confidently talked to the delegate in English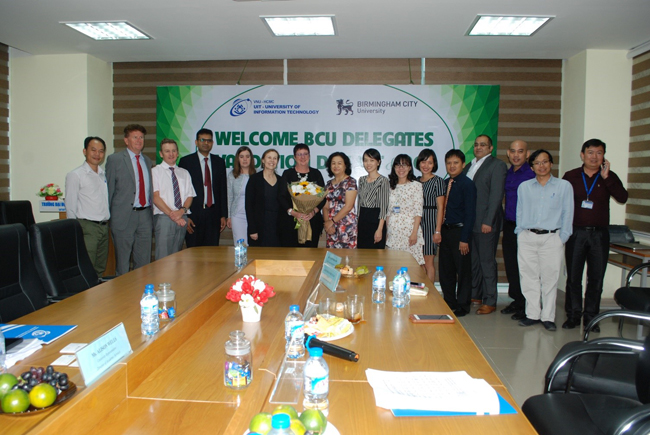 News: Duong Kim Thuy Linh