May 7, 2019 - Dr. Dean Steer from the University of Tasmania in Australia came to the University of Information Technology (UIT) to work, discuss cooperation. Dr. Dean Steer also met UIT's students and presented the Internet of Things (iOT) thematic.
The thematic mentioned iOT's future, its benefits in sectors such as: automatic, transportation, healthcare, production lines, infrastructure, insurance, etc. Additionally, Dr. Dean Steer said about the risks that iOT would cause problems such as cyber insecurity, personal data's leakage, and high operating costs. The thematic brought more than 30 students in the talented and advanced program. This was considered as an opportunity to UIT's students to listen to lecturers from advanced universities in the world.
Dr. Nguyen Anh Tuan, Vice President and MA. Ho Thi Minh Phuong, Deputy Head of External Relations Office met Dr. Dean Steer.
Dr. Dean Steer is working with UIT's Vice President
The meeting between Dr. Dean Steer and the UIT's representatives opened opportunities for further cooperation in Blockchain, network security, and game development. The cooperation between the two institutions was aimed to give opportunities to UIT's students to further their study orientation at the graduate level at the world's well-known universities. Besides, the students will be able to do researching with scientists.
Tasmania University (UTAS) is the 4th oldest university in Australia. According to the ranking conducted by the Academic Ranking of World Universities 2019, UTAS is ranked at the 287th as the best university in the world, and 17th in Australia.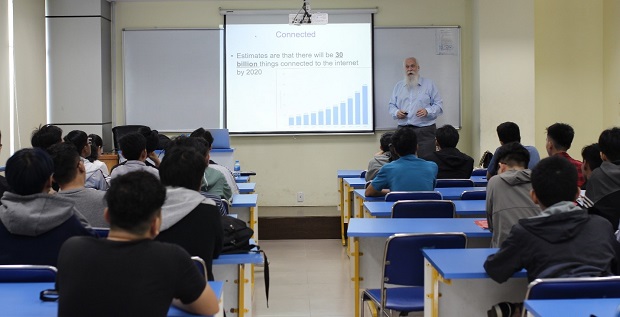 Dr. Dean Steer is presenting iOT thematic
Dr. Dean Steer works at the University of Tasmania - Australia. He is a member of society: The Australian Computer Society (ACS), The Association for Computing Machinery (ACM), The Higher Education Research and Development Society of Australia (HERDSA).
News: Duong Kim Thuy Linh
Photos: Nguyen Minh Nghia