In the afternoon of January 22nd, VNU-HCM and The ASEAN University Network (AUN) held a Ceremony to award AUN-QA Certificates to VNU-HCM's member universities. Ho Chi Minh City University of Technology received the Certificate on university level, the others were granted at program level for the 9 programs. At the Ceremony the Information Systems program of University of Information Technology (UIT) was qualified with the AUN-QA status upon the completion of the AUN-QA Assessment,
Attending the ceremony were Assoc. Prof. Dr. Vu Duc Lung – UIT's Vice Rector; Prof. Dr. Duong Minh Duc – Associate Dean of Information Systems Faculty (ISF).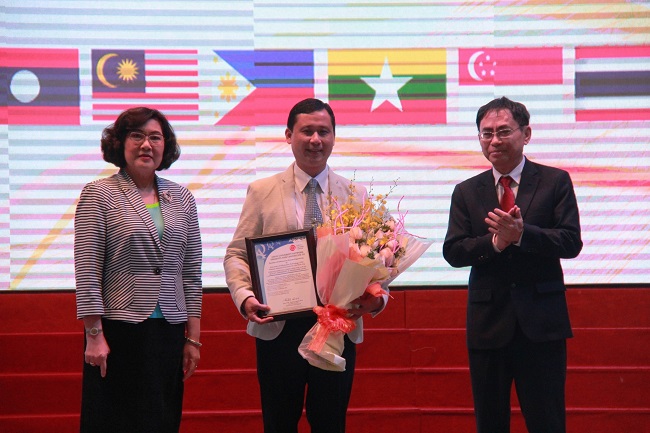 Ms. Nantana Gajaseni, Assoc. Prof. Nguyen Hoi Nghia awarded AUN-QA Certificate on a program level to Dr. Duong Minh Duc – Associate Dean of Information Systems Faculty
In November 2016, AUN's delegates worked at UIT to assess the Information Systems program of ISF. After 2 working days of assessment, ISF achieved a score of 4.2. The Faculty was qualified for AUN-QA standard.
"This is a big step necessary for the Faculty to look back at a whole process of training, promote strengths, acknowledge our constraints and propose roadmaps of improvement. For the upcoming time, ISF will focus on a measuring system, analyzing students' academic results and the effectiveness of our training programs, enhancing international cooperation for improving the training quality, "said MSc. Nguyen Thi Kim Phung, Associate Dean.
The AUN Quality Assessment, enacted in 2004 by the ASEAN University Network, was aimed at promoting quality assurance among ASEAN universities and towards inter-credit activities from qualified programs between the universities in the Network.
News and Image: Duc Loc
Translator: Duong Kim Thuy Linh