May 11, 2019 - University of Information Technology (UIT) hosted a Japan IT Job Fair 2019 (Fair). At the Fair, UIT's students had an opportunity to get jobs at IT Japanese enterprises. 300 students attended the Job Fair to be job-seekers.
The Fair took place from 7:30 am to 12:00 pm on the same day. There were 8 Japanese enterprises' booths on UIT campus. The enterprises came to introduce themselves; interview job's candidates who were studying in the Japan-oriented advanced program (JoAP). During the Fair, employers received application, met with dozens of candidates per representative and announced the results in few hours. The Fair benefited in networking the 3 sides: Japanese businesses, UIT and UIT's students. Japanese employers got the chance to have a face-to-face interaction with candidates who were interested in jobs at reputable IT companies. They also gained access to potential workforce at UIT and its neighborhood.
| | |
| --- | --- |
| "The Japan IT Job Fair 2019 is specifically aimed at Japanese market" - Dr. Nguyen Tan Tran Minh Khang, Vice President said | Vice President Minh Khang stressed the Job Fair's importance and its meaningfulness: it was a great way for graduates to have a life-long career in professional Japanese industries. He also expressed his hope that the Japanese industries could be successful in developing brand awareness among students. He also affirmed UIT overjoyed to accompany the Japan's industry in the future. |
Mr. Nobuyuki Tani, a representative from MEC Company, said the company would sponsor 2 month-internship programs in the summer 2019 to UIT's students who were capable of speaking Japanese and majored in IT. Selected students would be able to enjoy Japan's culture, cuisine, unpolluted environment, and excellent service which were different from those in Vietnam. Besides, MEC Company informed its recruitment of staffs to UIT's students. He affirmed that MEC Company would be willing to help its Vietnamese staffs to learn Japanese language in order to improve their language skills. Mr. Tani said MEC Company would always create the best conditions to nurture UIT's students so they would have a better life. His desire was to have good and hardworking staffs in his company to develop talented people for both Vietnam and Japan countries.
In addition, first-year students gathered at the Fair to enjoy the chance to meet and network with other students who had the common career orientation and find their future jobs.
Mr. Do Minh Tu, a student of JoAP, said: "at the Fair, I will create more plans in my mind for my future's job; this is my opportunity to get access companies so that I will make better choice in the future. Besides, the Fair is the place for me to exchange knowledge, understand which trending types of programming languages are popular in companies. "
Mr. Nguyen Van Tuan – a student of the Advanced Program at the Information Systems Faculty: "I admire Japanese working style. I hope to go to Japan. I think I will learn Japanese to fulfill my wish. The Job Fair is an opportunity for me to understand more about Japan."
Photos at the Job Fair: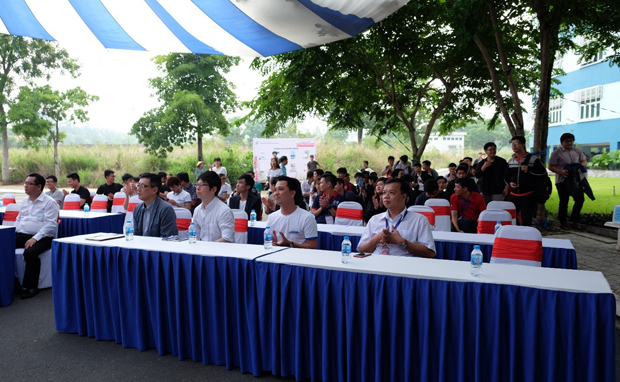 Industries are at the Job Fair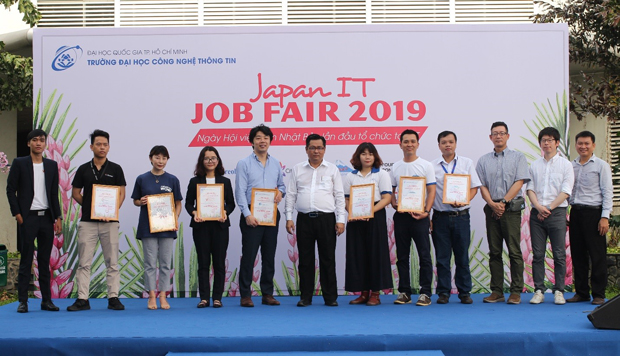 Dr. Nguyen Tan Tran Minh Khang and 8 Japan's Industries
who have received the Thank-you Letter from UIT
Students are visiting a MEC's booth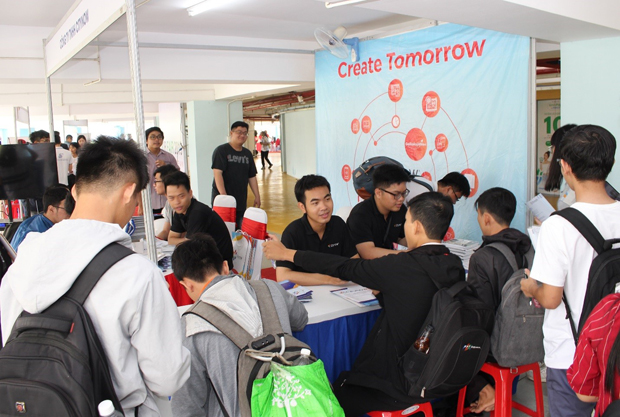 Students are travelling around industries' booths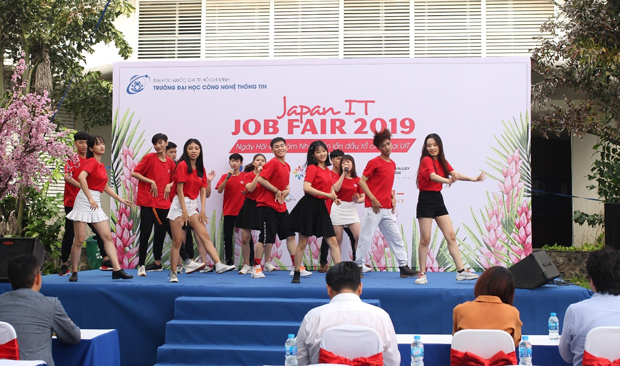 LossLess club's members are performing their incredible dance
The Japan-oriented advanced program is supervised and monitored by The Information Science and Engineering Faculty. The Faculty began its admission for the JoAP in the academic years 2018-2019.
News & Translator: Duong Kim Thuy Linh
Photos: Nguyen Minh Nghia