In the afternoon of January 19, at the Hall E, Komorobi and Sophia – UIT's two excellent teams won the ticket to the Digital Race Finale (Season 2). Attendants at the competition were Associate Professor Dr. Vu Duc Lung – UIT's Vice Rector, Mr. Nguyen Duc Quynh - FPT Software Ho Chi Minh City's Director, and students.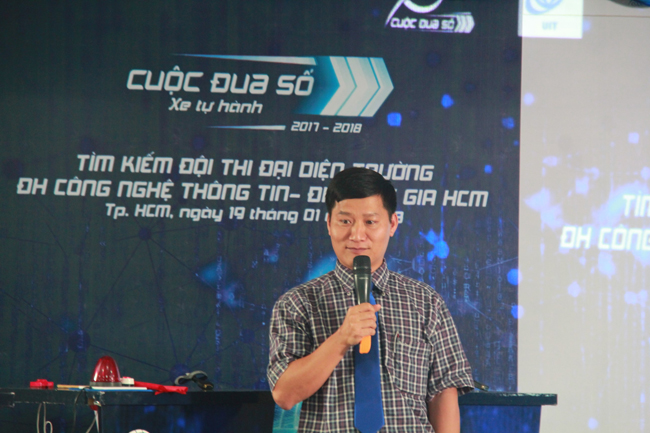 Associate Prof. Dr. Vu Duc Lung delivered the Opening speech
Speaking at the Opening Ceremony, Associate Prof. Dr. Vu Duc Lung said, unmanned rovers would be future technology. In the next 10 years, unmanned rovers would be popular in daily life. In 2013 and 2014, Google invested around US$10 billion in this field. Then, other technology companies began to do research on unmanned rovers. By 2025, it was predicted that there would be 2,300 unmanned rovers on the street; by 2040 there would be approximately 12 million rovers worldwide.
"I am very supportive that FPT bringing this competition to our students is meaningful in helping them to achieve important practical skills and access to future science," said Prof. Dr. Vu Duc Lung.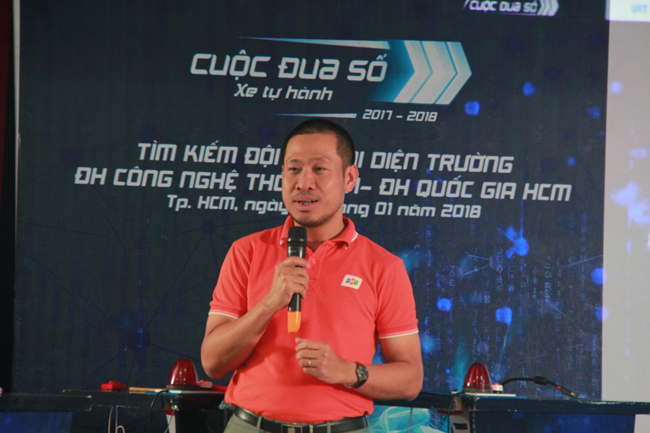 Mr. Nguyen Duc Quynh said that FPT was truly honored to hold this competition
Mr. Nguyen Duc Quynh said that FPT was honored to host a technology competition to attract students all over the country to join in. This was also the goal that FPT set in the Fourth Industrial Revolution.
"We will be easy to fall behind in the future if we do not speed up now. The Digital Race is just the beginning to future unmanned rovers. You can also learn from this contest, you can access and gain knowledge of the technologies in this Fourth Industrial Revolution's period, such as Image Processing, Identification, Motion, IoT, Cloud, etc.," emphasized Mr.Quynh.
At the contest, seven teams undertook 3 challenging examinations: Image processing skill, Fast programming skill and Knowledge of technology.
The final results announced Komorobi to become the champion team with the highest score (7.61 points), with the highest prize of USD8,500; USD2,000/person for the FPT Software scholarship, an OPPO smartphone and an unmanned rover. Komorobi and Sophia were the two teams, representing UIT to compete in the 2017-2018 Finale – Digital Race.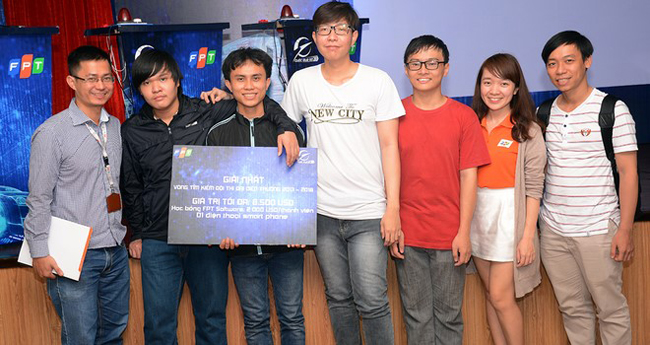 Komorobi headed to the champion with the highest score
Finale matches of the 2nd season would take place in April 2018. The total prize value would be up to VND 4 billion. Winner team would receive a prize value of 450 million dong for every winning round, including a one-week stay to access new technology in Japan, be recruited by FPT Software to work in the field in the individual's desire.
News: Duc Loc
Translator: Duong Kim Thuy Linh