The morning of the 5th September, and in the atmosphere of welcoming a new academic year across the country, more than 1,000 UIT's students attended the Opening Ceremony at the VNUHCM Headquarter.
Attended at the ceremony were the Prof. Dr. Nguyen Tien Dung – the Member of the VNUHCM Party Committee, President of the University of Economics and Law; Heads of Offices of Personnel and Administrative Affairs, and Student Affairs.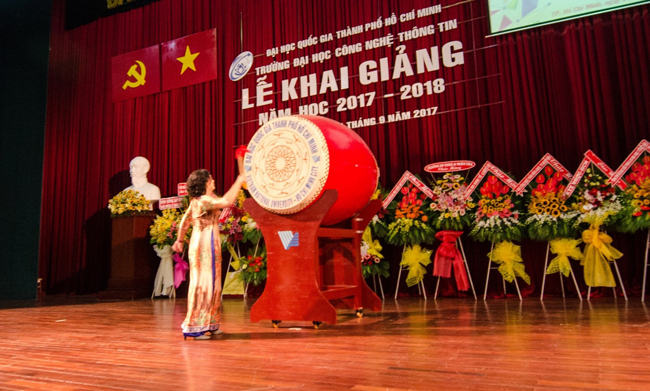 Dr. Nguyen Hoang Tu Anh drummed to start a new academic year. Picture: Hoang Lam
On the UIT's side, there were: Dr. Nguyen Hoang Tu Anh – Party Committee Secretary, President; Prof. Dr. Vu Duc Lung, Vice President; Dr. Nguyen Tan Tran Minh Khang, Vice President; and Heads of Faculties/Offices/Departments/Centres.
Last but not least, sponsors, representatives to enterprises, lecturers, staffs, and more than 1,000 students presented.
Making an opening remarks, Dr. Nguyen Hoang Tu Anh congratulated and celebrated students who gained high scores in: Vietnam's National High School and University Entrance Examinations, to become the UIT's students. "Your today's results bring joy to you, but they are also the pride and expectation from your parents, teachers, friends and the whole society. However, they are just the beginning. Entering a new learning environment - new content and form of studying - requires you to develop a suitable, active, creative methodology so as to complete your task and achieve your expected results. You are in your most beautiful life, but you are having challenges await. Build yourself on what you have achieved, determine to study, improve your knowledge, skills and cultivate yourself in order not to dissatisfy your parents and teachers' expectation" insisted President Tu Anh.
At the ceremony, Nguyen Quang Huy – a freshman of the Software Engineering Faculty – a representative to all freshmen of the academic years, expressed his pleasure in deciding to study at UIT. "Although he has just studied at UIT not for long, he has received precious assistance from lecturers. Moreover, provided with well-equipped facilities on campus, all the students are quite satisfied and comfortable" said Huy.
Also on this occasion, students Nguyen Van Phong and Le Viet Hung were awarded an honorable certificate of merit from VNUHCM's Director Board in recognition of his outstanding achievement in a Student's Olympic Competition, and outstanding results in studying and cultivating.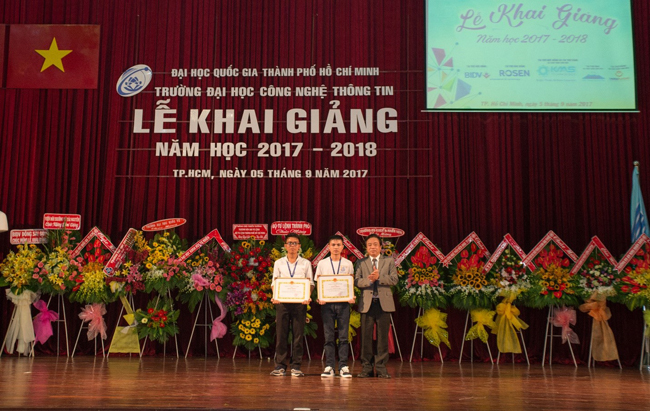 Prof. Dr. Nguyen Tien Dung handed over Certificate of Merits to the two students who have outstanding performance. Picture: Huy Hoang
4 UIT's freshmen whose scores in the Top 3 of the last Vietnam's National Entrance Examination, and 13 ones with high admission scores. VNUHCM Fund also gave Nguyen Le Viet Hoang a scholarship.
Dr. Nguyen Hoang Tu Anh handed over scholarships to freshmen whose scores in the Top 3 of the Vietnam's National Entrance Examination. Picture: Huy Hoang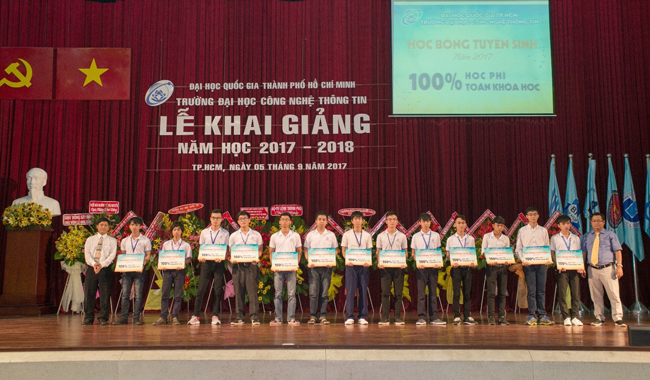 Prof.Dr. Vu Duc Lung and Dr. Nguyen Tan Tran Minh Khang handed scholarships to 13 freshmen with top-high scores. Picture: Huy Hoang
Representatives to enterprises who were on UIT's sides in caring UIT's students were Rosen, BIDV – Saigon, KMS with the scholarship amount of 120 million, 40 million, and 25 million (5 scholarships) respectively.
News: Đang Van Em