TTO – In the morning of the June 8th, Saigon Hi-Tech Park opened a Maker Space. The Maker space is equipped with facilities to carry out application projects, hold conferences for lecturers, students, startup.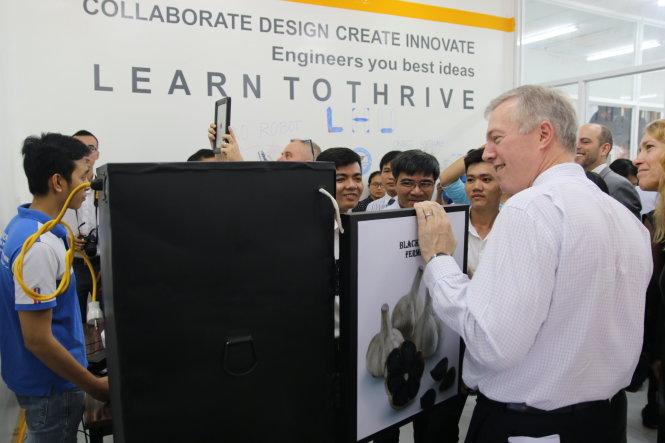 United States Ambassador Ted Osius attended the opening ceremony, shared: "supplying equipment for lecturers, and students to improve their skills is necessary to keep up with the Industrial 4.0 version. Picture: Tuong Han
This is one of the two maker spaces, belonging to the BUILD-IT Project (Building University-Industry Learning and Development through Innovation and Technology). Sponsored by USAID, Arizona State University, the project is being carried out in Vietnam.
The project aims to connecting STEM Education (Science, Technology, Engineering and Mathematics within universities across Vietnam, building a new generation of students who have abilities to apply technology in growing economy.
Depending on the needs of a project team, the Maker Space is able to provide a working area on the circuit board, help with mechanical issues (3D printers, laser cutting machines, drilling machines, wood-cutting machine, and sewing machine) in order to complete a demo.
Additionally, the Space also serves the needs for student-wide competitions, a place for them to share ideas, and develop new products.
Followed by the opening ceremony was discussions among representatives from companies, universities, and the owner of the Maker Space who has a 10-year experiences. The discussions were about methods to effectively operate the Space and proposed a new model to replace some of the class hours to student-business projects.
Source: tuoitre.vn