On the morning of April 26, 2017, a working session between the UIT and the Rosen Group was held at the University of Information Technology (UIT). The discussion session is aimed at promoting a collaborative project between UIT and Rosen Group in Vietnam.
Attending the meeting, on the Rosen side were: Mr. Ingo Beimdiek –  Manager Global New Business Roll-Out; Mr. Matthias Lohaus – Manager Research and Development; Mr. Floris Verhagen –  Vice President - ROSEN Asia Pacific;Mr. Nija – Business execution Manager South East Asia; Mr. Holger Klus – Lead Software Architect; Mr. Sebastian Beyer – Requirements Engineer Global New Business Roll-Out; Ms. Nguyen Hong Van – Operations Manager.
On the side of IT University, there are TS. Nguyen Hoang Tu Anh, Rector; with heads of the following units: Office of External Relations;Office of Graduate Study, Science & Technology; Faculty of Computer Networks and Communications; Faculty of Software Engineering.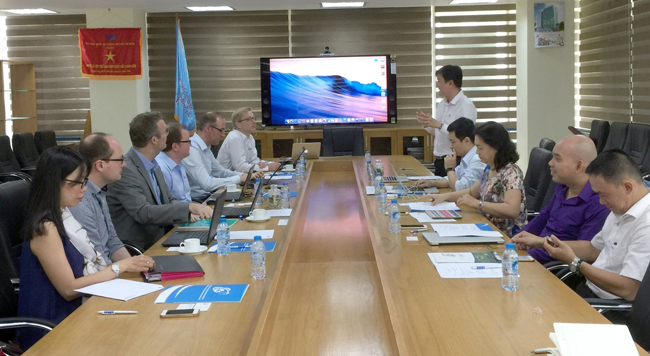 UIT Representative introduces majors of UIT
At the meeting, Mr. Floris Verhagen congratulated a team at the Faculty of Computer Networks and Communications of UIT who overcame many competitors and became an important partner in the project with Rosen. In addition, the Group appreciates this cooperation project. The research team of the Computer and Communications Network has been chosen as Rosen's development in Vietnam in the near future.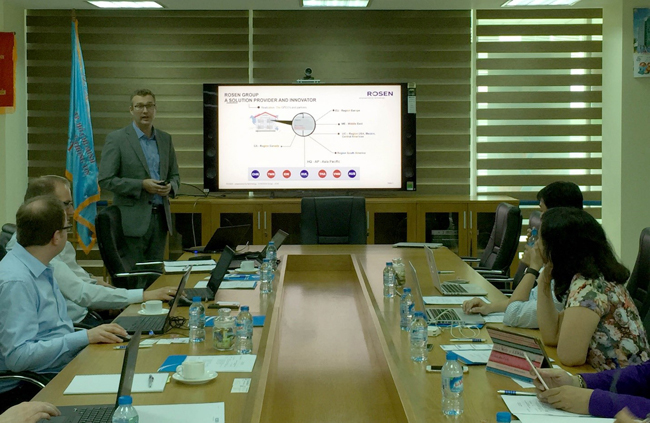 Mr. Floris Verhagen introduces Rosen Group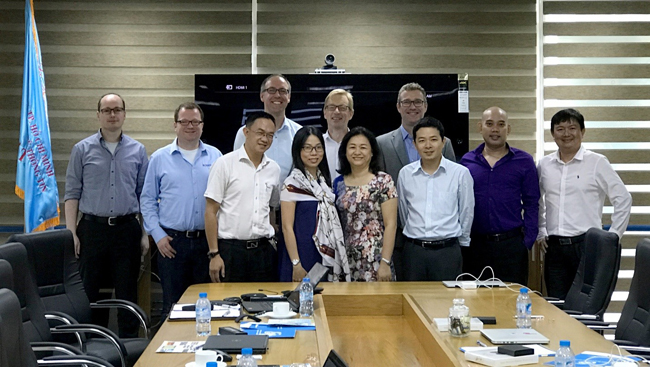 Representatives of UIT and Rosen take souvenir photos.
Dr. Nguyen Hoang Tu Anh claimed: "UIT will create all favorable conditions for the Rosen to invest and develop information technology projects at the University." The cooperation project between UIT and Rosen Group is expected to bring many benefits. In addition, this collaborative project contributes to the objective of promoting technology transfer activities at UIT so that students can access the world's advanced technology and techniques.
The Rosen Group is a leading global multinational in the gas and oil industry. Rosen was founded in 1981 in Germany. Rosen Group provides state-of-the-art technological solutions for oil pipeline inspection, early detection of faults and failures within the pipeline to ensure safe and economical production. The Rosen Group operates in more than 100 countries and employs over 2,000 people. Today, Rosen not only works in the oil and gas industry but also provides advanced and innovative technology in the data analysis industry and provides software solutions for the 4.0 industry.
Detailed information:  https://www.youtube.com/watch?v=hk-nq8LMR6I
News & Photos: Dương Kim Thùy Linh