October 11, 2018 - At the Eastern International University (EIU), University of Information Technology (UIT)'s President attended The 10th WTA University Presidents' Forum and signed a Memorandum of Understanding (MOU).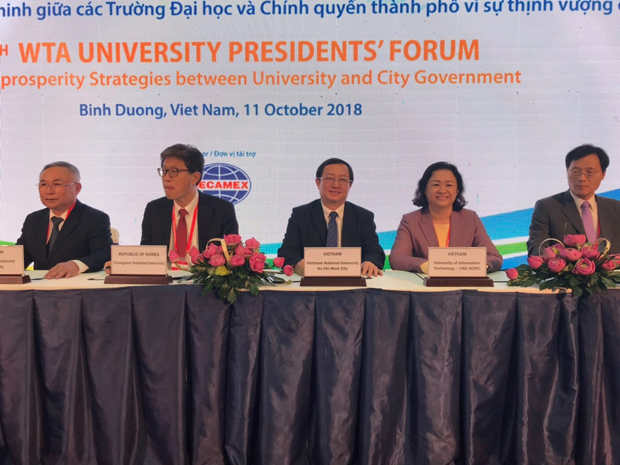 Assoc.Prof. Dr. Nguyen Hoang Tu Anh – President (the 2nd person from the right-hand side)
is at the Signing Ceremony
The MOU focused on agreed contents among universities who joined in the MOU signing ceremony such as exchanging of lecturers and students; cooperating to host seminars; academic carrying out academic programs, cultural exchanges, etc.
At the Forum, Associate Prof. Dr. Huynh Thanh Dat – VNUHCM's President said that the era of Internet of Things (IoT), Big Data, Artificial Intelligence, smart factories, smart cities, innovative urban areas, etc. and the wave of the 4.0 Industrial Revolution were in Vietnam, making a change to social activities in a faster and more efficient way.
Dr. Nguyen Van Phuc, EIU's President said that the Forum was an opportunity for Presidents to share ideas and discuss strategies to find feasible solutions so that the universities could integrate deeply and effectively into WTA universities' system.
The WTA University Presidents' Forum is a high-level meeting among universities. It is aimed at actively discussing the universities' roles as one of the core elements in the Regional Innovation Ecosystems with this year's theme: "Smart Co-Prosperity Strategies between University and City Government".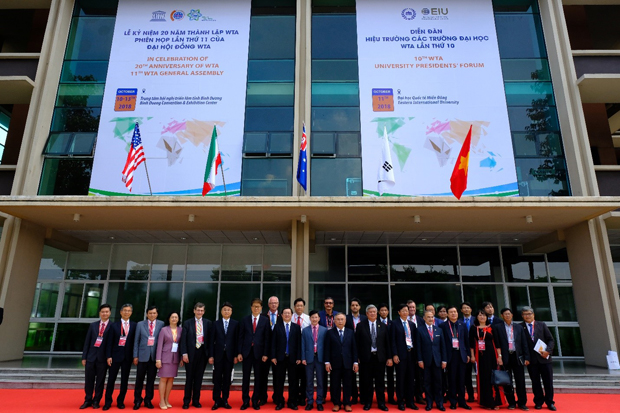 Associate Prof. Dr. Nguyen Hoang Tu Anh – President is taking photo with other Presidents who are participating in the Signing Ceremony
News: Duong Kim Thuy Linh
Photos: Dr. Nguyen Anh Tuan