TTO – This app is expected to be very useful for people when information of traffic jams, construction zones, speed signs, street directions, etc. will be available on mobile devices.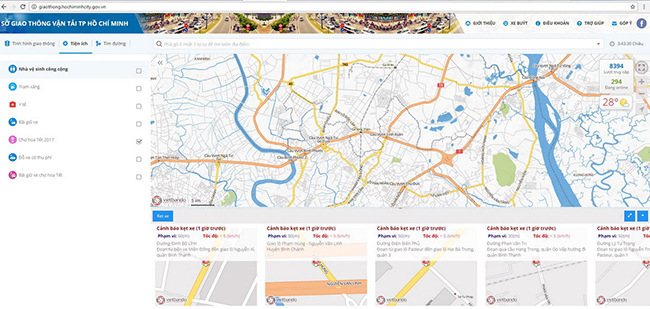 Image of the display of the website on traffic in Ho Chi Minh City
In the evening of January 19th, HoChiMinh City Department of Transportation officially announced and put into operation of the HCM City Information Portal on an online digital map on the website www.giaothong.hochiminhcity.gov.vn, and an Android operating system based mobile app.
Vice Chairman of Ho Chi Minh City People's Committee Le Van Khoa also stated that this is among "non-construction" solutions in HCM City in an effort to avoid traffic jams.
"We have discussed, and it's time that things must be done. And this is what we are doing," said Le Van Khoa to Tuoi Tre.
The utility of digital maps is evaluated by the time by people. He believed that this app would be a very helpful, according to Khoa.the
"This is the breakthrough, Vietnam's transport sector is putting much of its hope in this digital map, and Ho Chi Minh City is the first to use it, said Khuat Viet Hung – Standing Vice Chairman of the National Traffic Safety Committee.
"The portal features 4 important functions: provide realtime information, utility information, road maps, and online feedbacks on traffic infrastructure and transportation situation," said Tran Quang Lam, Deputy Director of the HoChiMinh City Department of Transportation
All these utilities have been integrated with data stock footages from dashboard cameras on means of transportation in Ho Chi Minh City, traffic cameras and others.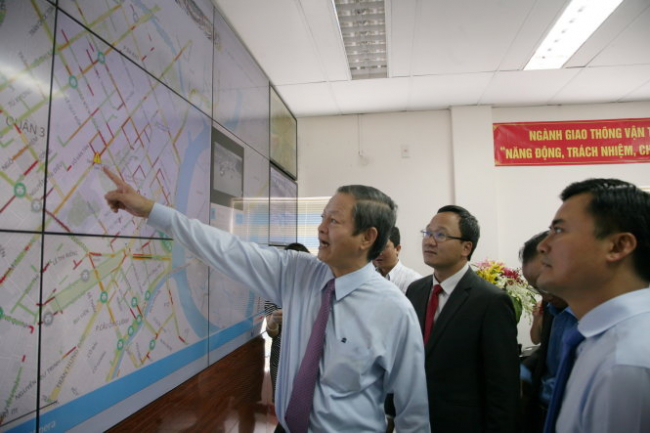 From right to left: Bui Xuan Cuong, Le Van Khoa, Khuat Viet Hung was watching the digital map - Image: VIEN SU
Utilities' functions as detail:
1. Provide real-time traffic information:
Traffic situation, density, speed on the streets in the city.
Traffic online footages from a system of over 300 traffic cameras in the Department of Transportation.
Warning information in places where traffic jams are occuring; locations of construction zones
Location of traffic flow to help people choose the appropriate route.
2. Advise people on roadmaps:
Optimal advice on needs (travel distance, travel time) to help people make their right decision on avoid from passing by areas with high traffic density, congested areas, traffic incidents.
3. Provide road traffic utility: 
Information about the acceptable flow velocity; location of parking lots; roads for parking fees; public toilets, weather, temperature ... Especially during the Tet holiday, will be included information about areas where there are flower markets in Ho Chi Minh City. 
4. Interact with users: 
There will be tools to receive and respond online to people's feedbacks on inadequacies, traffic infrastructure's problems, traffic-related administrative procedures and other comments. 
Tran Quang Lam, Deputy Director of the Department of Transportation, said: "The online traffic map is available 24 hours a day to serve Ho Chi Minh City's people. This is the first version, it will continue to supplement, upgrade for better."
Source: tuoitre.vn
Translator: Duong Kim Thuy Linh