On the afternoon of 29 November, the conference "The role and responsibility of the young generation in information society" organized by the Information Security Department, Ministry of Communications and Information held at Academy of Cryptography Techniques.
In the conference, information security students coming from Academy of Cryptography Techniques, Hanoi University of Science and Technology, People's Security Academy, VNU University of Engineering and Technology ... have raised questions about job opportunities, the experiences of applying for a job for  guests such as enterprises' representative, oustanding Information Security students.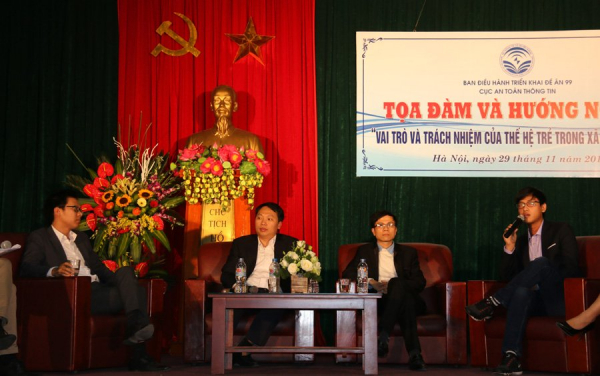 "Roles and responsibilities of the young generation in the information society" took place at the Academy of Cryptography Techniques on the afternoon of  29 November.
Talking in the opening speech, Mr. Nguyen Huy Dzung - Deputy Director General of Information Security Department emphasized on the importance of information security in modern society.
"If, in the past, the power of a nation was measured by horsepower, the amount of warfare, the ability to conquer the oceans, and later by the ability to occupy space, but now, since computers have appeared first time, since the Internet has become so popular, the power of a nation is now measured by its ability to take over cyberspace"
"The goal of the talk today is to arouse passion, ambition. Hopefully today we can help awaken the potential, wake up the "sleeping giant" in a few friends sitting in this hall to within 3 years, 5 years or 10 In the next years, you will have great contributions to society, to our country, we feel very happy, "Dung said.
Answering the popular students' questions for enterprises : What do businesses expect in candidates ?, Khong Huy Hung - General Director of Vietnam Cyberspace Security Technology JSC (VNCS) ) said, the general desire of VNCS is the same as all other professions that you have to have background knowledge. "Soft skills, however, need to be cultivated and the skills that we most want."
Hung said that many candidates still lack professionalism. He gives some evidences that happened in his business: the candidates did not reply to the email, the candidates did not come to the job interview, or confirmed that they will arrive but they did not come when the time is coming.
 "Not everyone is the best. If you are not the best, then you should cultivate other soft skills, professionalism, diligence, hard work to be the most suitable. We recruit the most suitable ones, not the best ones, even who we need not the best, but the average student, "Hung shared.
In response to this question, Mr. Le Minh Hung, Director of Cyberspace Center, Vietnam Military Telecommunications Group  said, "Each individual needs their own different paths to reach success in the Information Security Industry in particular and in the other industries in general. However, in my opinion, there is a common points that "You need to have certain flying hours, around 10 thousand flying hours." Success does not come after a night, after a dream, but the days of hard working".
Share more about the rule of "ten-thousand-flying hours" Mr. Dung said: "No dream come true if you do not wake up to work. To succeed in a certain field, according to scientific statistics, one has a 10,000-hour rule. To become a full-fledged pilot, you have to spend 10 thousand hours flying. To be a mature musician, you have to have 10,000 hours of practice on keyboards. In order to be a mature programmer and get results, you have to have 10,000 hours of hard working on your computer. "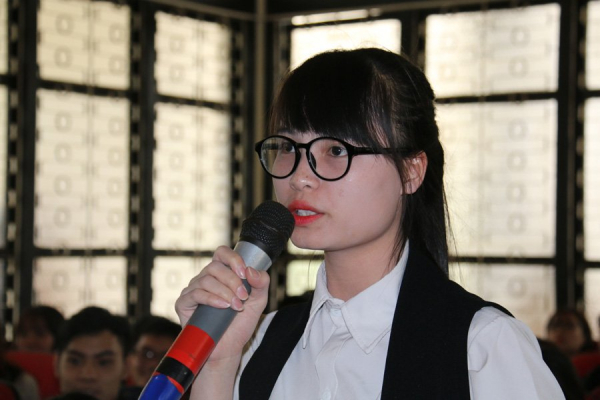 Student Pham Thi Thanh asked: "What are the best methods for studying to get the salary 2000.usd per month from these recruiters?"
Many Information Security students do not hesitate to share that they choose this industry because of their promising future income.
Therefore, the question of Pham Thi Thanh, a junior of Information Security major, Academy of Cryptography Techniques has shocked the people presenting at the hall.
"What are the best methods for studying to get the salary 2000.usd per month from these recruiters?"
Thanh strongly questioned the employers.
"I used to think like that when i were a student. There are not less students gain $ 1,000-2,000 salary per month. That is not a dream. But you can not force a prodigy to solve an differential and integral calculus. If  he wants to solve it, we have to wait til he is a grad 10 student. If you want a salary of 2,000 usd per month, you should calm down a bit. It's not a difficult salary for you guys here. I believe that after ten to fifteen years, at least half of you here will get that expected salary. If you are better than others, you may only need 5 years. You should be patient. "- Mr. Le Minh Hung answered.
Sharing the story of income, Mr. Khong Huy Hung asked the opposite question with her: "If I pay you 2,000usd then how much you would earn for my business?"
"It's not important that you give No. 2,000, but it is important how much you could earn for my company. For a just-graduated-student, he/she usually earn about 10.000-15.000usd per month and then I pay he/she back 2.000usd per month.
I have not got an answer for you but I'm wondering what you will do to earn 10.000-15.000 usd per month. So I think my answer is your question now.
Mr. Hung said: "You should wonder what you could bring to our businesses. Normally you have to think about it first. I take what I give .That sounds more acceptable. Asking yourself is better than asking the others."
After that hot question, Mr. Nguyen Huy Dung give a honest but humorous suggestion to students:
"You are talking about a $ 2,000 salary to do important things. Are there any present students ready to get 200 usd to do the similar important things? You could all contact me to request an interview. The Department of Information Safety is currently recruiting staff for the Department and you can contact me or the information booth out there. "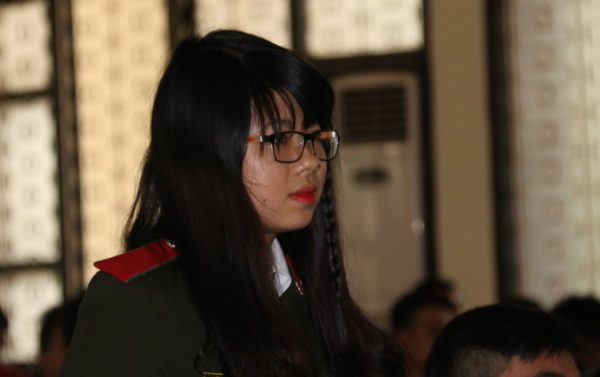 A student from the People's Security Academy asked the employers.
Another female student who is studying Information Security, Academy of Cryptography Techniques raised the question of employment opportunities suitable for female students in the industry. Answering this question, Mr. Khong Huy Hung suggested that students should improve their knowledge in finding the solution.
"To do that, you have to read more, practise more, updating the world trends everyday. In addition to background knowledge, English is also an important factor. You just could read and consulted the others when your English is good enough, and then give solutions to customers. I think that is the choice for ladies not to focus extremely on "technical".
On the female student learning Information Security issues, Mr. Le Minh Hung said that "you should not set limits for yourself."
"I think  in this era we should have a different point of view on gender discrimination, of course in Vietnam still have traditional influence. However, recently I see many women, even in my office, are in charge of pentest, security, code as anyone. If I look more broadly, go out more, I am impressed by many women. They are very confident and intelligent. I think there are no limits to you. "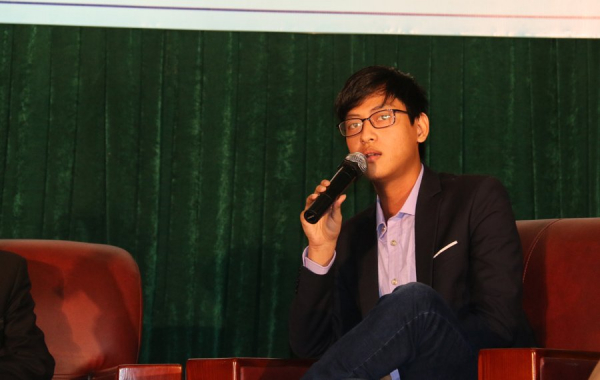 Mr. Duong Quoc Tin - Student of Information Security, University of Information Technology – Vietnam National University of Ho Chi Minh City - was one of the guests at the seminar.
Participant Duong Quoc Tin, senior of University of Information Technology, Vietnam National University of Ho Chi Minh City. He is one of three students who won continuously the first prize in information security competitions, the champion of the Cyber ​​Sea Games in Indonesia in 2015. Two weeks ago, he visited Silicon Valley for an interview with Google.
A student suggested that Mr. Duong Quoc Tin share his experience with those you would like to do in the field of information security in foreign companies. "I need to acquire what experiences as well as knowledge to be called for interview?"
The young man with champions confirmed "it is necessary to set goals early and have a mindset that the road will not be easy".
Mr. Tin shared that he entered the information security industry with the desire to make $ 3,000 a month. And he think that's a motivated and logical reason.
"From the very beginning, you have to set goals to work abroad. At that point, you have to find the solutions also. The first essential element is foreign language. At the interview with Google, I encountered many obstacles in foreign language. I experienced 5 rounds of interviews from 10 am to 3 pm, 45 minutes for each. They are in-depth technical questions. If you just learn the basics knowledge in University, you will not pass.
If you want to be interviewed in such companies, you must be one of the best. It is a difficult process ."Mr. Tin shared.
Source: vietnamnet.vn