Youth is like a film reel filled with the shortest, happiest and most memorable moments of a human, if you cannot live down a bit to enjoy it, your whole life will be completely meaningless. And I used to be like that, until I met UIT - a place where I could send my youth to go and go further there. "If you want to go fast, go alone, if you want to go far, go together", but to me, that statement is a bit different, saying: "If I go away, I still want to go with UIT."
As a child living in a poor countryside, having to leave home and parents to go to the city to study, maybe not just for me and for any young people, it is a big and difficult challenge. The new life at the University was very different from what I had thought before, which was always proud because I had always been a good student of the Specialized School for many years and also won the second prize in the province's Excellent Computer Student, but there were many times when I really wanted to give up when I enrolled for a few days because I was struggling with everything. And, up to now, despite going through many long journeys, looking back, I still cannot forget the times when UIT and his colleagues at school stood shoulder to shoulder, helping and supporting to overcome the moments in the most difficult time.
Still remember...
I still remember the first week when I entered UIT, I was totally surprised by the friendliness and closeness of the students together, that time sitting in the classroom, which was timid and timid, but the people around me, even though we just met for the first time, made me able to be more open than ever, it felt like I was near my family, even the whole team invited each other. register with UIT Martial Arts Club (Material Art) - a dynamic environment, suitable for those who want to come to hone, learn, improve their physical strength as well as train their body - just because Tuan ( a friend in the group) blames me for being sick. The reason is that simple! However, I have been with the club for 3 years now.

The club is a happy family ...
At UIT, most students not only get involved, but also enroll in clubs to pursue their interests or learn more about other fields. It can be music and dancing at the Lossless UIT Club, volunteer activities at the UIT Social Security Team, volleyball at the UIT Volleyball Club or learning about Japanese culture through the Wakame Club (Green Sprout) .... Not to mention, if the whole school is a miniature society, the club is a happy family.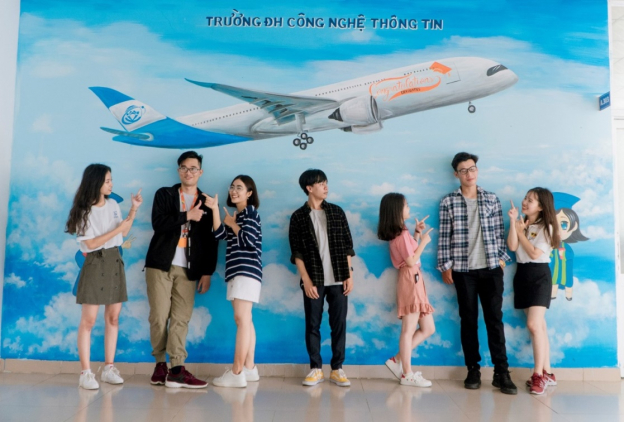 For me too, on the first day of registration, you guys were very cute and enthusiastic, even though I didn't know anything about martial arts, but you guys happily accepted you as the next member, and also from There, my inferiority complex and previous self-esteem also suddenly disappeared. I am even proud to show the family that it is the second happy family that I am fortunate to find, and I will appreciate it.
It is often said that "University lecturers don't care about students, so you can study at any level." But at UIT, that concept does not exist at all, with the school, the teachers are very attentive and caring for their students, every time they work on a project, or when they take the exam, the teachers also spend all Extra classes to help students better understand the lesson, besides, if anyone needs to meet the teacher individually for advice or retake the lesson, they can make an appointment to schedule a meeting. And to me, the most impressive of the lecturers is Dr. Nguyen Tan Tran Minh Khang - who had a great impact on my thinking later.
Being able to meet him is the best thing I have learned at UIT. I feel there is a whole lot of dedication, dedication and dedication in each his lecture, he always cares about students, regardless of whether that person is me, a friend or whoever it is. He is still willing to spend hours talking, listening to and listening to each student's feelings. I remember, I took the initiative to register for my teacher for lunch in the "Lunch with the principal" section, the door was still open there waiting for students, when I arrived, he would sit there by himself.
Talking with him was fun, there was no feeling of separation between the students and the lecturer, I confided not only about schooling but also life, struggling but very happy because I chose the right place for the starting point of the journey is UIT. He smiled and advised me a lot, both at noon and in the afternoon, he seemed to spend all his time confided to me. Up to now, I still cannot forget that happy moment in my memory.
From a timid, closed-minded person, I can now confidently tell you, " I was different, because I chose to go far with UIT instead of going so fast and going alone," and to me, that decision is always more wise and correct than ever.
Thuy Duong