People always tend to choose the direction and career so that they can be in their safe area. For example, for those of you who are gifted in foreign languages, their dream is usually to become a teacher or a linguist. If someone tells you that they like to study Biology, then most of 8/10 people will choose to become a Pharmacist or Doctor.
But with Ngo Quang Vinh - a student of course 2019 at University of Information Technology -VNUHCM, he broke that general rule and ventured to find a new direction for himself. From a student with the National Third Prize in Chemistry, Vinh chose to become a programmer and decided to pursue that dream at UIT.
Let's find out his interesting stories with #UITTalk!
Ngo Quang Vinh
Top winner of specialization in A of Ba Ria - Vung Tau province
· Won the third prize for Excellent Student at National level in Chemistry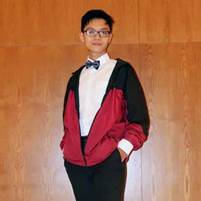 Coming from Le Quy Don High University for the Gifted and the winner of specilization in A of Ba Ria Vung Tau Province in 2019, Vinh does not hesitate to choose the University of Information Technology as the starting place for his journey, he shares: " My hobbies are just reading books, watching movies and researching world science like my peers. The reason I chose Information Technology over those related to Chemistry is because I wanted to try to break the safety circle I had set before. For me, there is no option that is safe, but there will always be certain risks and opportunities. And to this day, I still feel so proud to have chosen the right industry and the right University for myself."
Besides, Vinh is also excited to share more " One of the reasons I chose UIT is because the University gives students and students a lot of benefits, from rewards for National HSGs to opportunities for internships at companies and scholarships to study abroad. Not only that, I am also very impressed by the University campus. UIT is not only spacious and airy with many trees but classrooms are very modern."
Currently, he is also a member of the Programming Board of Webdev Studio Club, soon, maybe Vinh will focus on studying in the University so that it is good and probably knowledge is essential.
Having the opportunity to talk and listen to Vinh's story, I feel very happy because you talk quite humorous and lovely.
UIT Talk thanks him very much! Hopefully Vinh will be an example for those of you who are still timid and shy, not dare to escape from the safety circle and find a better future for yourself.
I wish Vinh always happy and soon reap more success like this again!
Thuy Trang