For many parents, the information technology industry is not for women, women should only study such fields as economics and languages. But not all young people think so, let's find out about the journey to UIT of My Lien.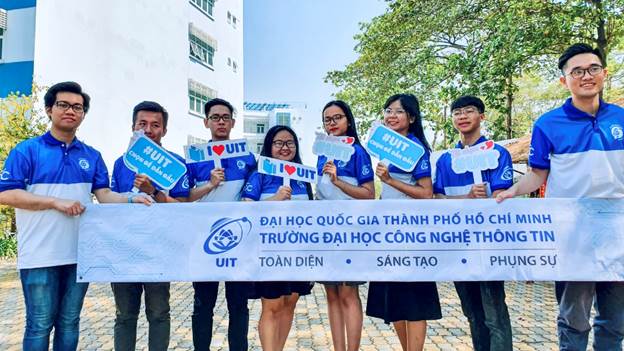 When I first entered high school, everyone oriented to help me that I should study economics because I am good at Mathematics, Physics and English as well as a lively personality, suitable for the Economics sector. I also think that studying Economics is not a bad choice, but one day, I accidentally came across a blog post, 'I go coding', talking about programming. Since then I have been determined to pursue this industry, I want to become a person who "changes the world, makes the world better" as the author said.
After studying information about universities, I set a goal for myself to get into the Software Engineering field of the University of Information Technology. I was happy to share this with everyone, but everyone advised me not to study information technology because I was a girl, and not to choose UIT because it was hard to get into.
My thinking at that time was different from everyone else. Why girls should not study information technology? If it comes to thinking that is not equal to men, it's not like that, during Pascal classes, I always do homework before the boys in the class as well as solve many exercises that teachers think are difficult for school age. born. Why should not UIT to study because it is difficult to enter? I am not a smart person but I try harder than others and my performance is still good, of course not as good as those of you who are both intelligent and hard-working.
I ignored everyone's advice and decided to take UIT exams, including my parents. Fortunately, I have proven to everyone that I can do it even though thanks to the plus of the priority points, I was lucky to pass UIT. My parents at that time advised me not to study UIT, because luckily passing there would not be able to study because the curriculum was very heavy, not suitable for girls.
It took me nearly a week to tell my parents about my dream, to explain to my parents that the IT industry is not far away for girls. In the end, I managed to convince my parents to continue to pursue the path that I was planning. However, my confidence also dropped quite a lot when I just barely passed the entrance exam, but the studying environment at UIT has helped me to develop a lot.
During the four years of studying at the University, I have been helped a lot by the lecturers, lecturers not only equip themselves with specialized knowledge but also convey to them the life experience, the notes when pursuing Software engineering.
At first, I used to think that being a girl in information technology would be much harder than a boy, but when I entered school, I found that girls who studied information technology had many advantages. The advantage of women in learning information technology is that they are skillful and have creative minds that help us a lot in the process of working in groups as well as solving many data at the same time. Especially in a class with very few girls so the teachers are always more favorable
Besides studying at UIT, I also participate in club activities as well as social activities, which helps me make more friends and learn soft skills. Thanks to that, I have more opportunities to study with the senior students as well as part-time jobs related to the major. Through the annual job fair organized by the school, I had the opportunity to practice at KMS to learn and gain more experience.
Currently, I am working at Fujinet company, the job is quite stable thanks to my mastery of specialized skills as well as good communication in the working environment. With a decent salary, I was able to take care of my own life even after graduating for almost a year.
I would like to convey to those who are wondering when choosing a field and a school that says: "If you spend 10,000 hours training a field, you will become an expert. Never mind what others say, always pursue your passion because the effort will never let you down. People say I was wrong to choose UIT, but this is currently the best testament to my choice. Hope you will achieve success on your own passion."
Truc Huyen