The parents are overprotected Nguyen Quoc Trung from his childhood to sophomore, he only has the farthest trip... in Vung Tau with his family. And yet in the junior year, this Software Engineering high-quality program student (UIT) has made a spectacular "hattrick" of success in winning three dreamy International exchange program scholarships continuously such as at National University of Singapore, Hosei University (Japan) and Harvard University (USA).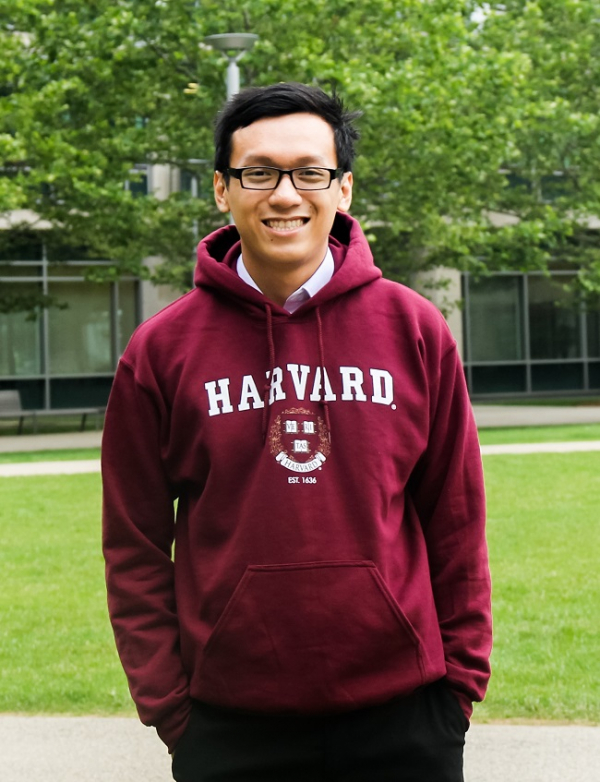 Nguyen Quoc Trung, a Software Engineering high-quality freshman, University of Information Technology (UIT)
What made the unexperienced boy become the experienced man? We had the opportunity to chat with this interesting guy.
Hi Quoc Trung! It seems like your last school year is a memorable year for you as one of 53 Asian students who have been awarded Singapore's Temasek Foundation International Leadership Enrichment and Regional Networking (TFI-LEaRN). Few students received the Sakura Scholarship to Japan to study technology, and especially one in five students received the "Come to Harvard – Learn to success" award. Can you share some emotions as well as memories when joining these programs?
I feel very lucky because The TFI-LEaRN Award is my dream. Because it was the first time I tried it. Previously, my parents protected me so carefully so I have not gone anywhere farer than Vung Tau and it is also the only time away from the secondary school years. Therefore, decided to register this program without parents' permissions is my bravery decision at that time..
The most memorable gift that I received from this program is the friendships from the international friends. It could be compared with the family love. It was the first time I felt empty when saying goodbye with them at the airport. For me, a group of friends from different countries living together, chatting, experiencing many ups and downs during 5 months is unforgettable.
I think that learning about the education of countries in the region to find the pros and cons of Vietnam is also a motivation for my change and development. Having more friends around the world make my world flatter and dare to dream and catch it. This is also the reason motivating me do something new like the trip to Harvard University recently.
Can you tell us more about your activities at Harvard University? In there, what impresses you the most?
The program "Come To Harvard - Learn to Success" sponsored by Hoa Sen Group. Me and my four friends have two weekends visiting the city, five days a week is a study and exchange schedule from morning until evening with professors from Harvard University and many other major universities. There, I learned subjects such as Artificial Intelligence, Psychoanalytic for Leaders, Balance Scorecard, Network Security, Creative Leadership, Global Branding. There is also an exchange with former Massachusetts governor Michael Dukakis to hear about his leadership style. End of the trip was a seminar on "Erasing discrimination in the era of integration" at the UN headquarters in New York.
What impressed me most was the words "Veritas" (honest) on each of Harvard's gates. That is the supreme virtue for any Harvard University students and staffs to aware and maintain. All are towards a true learning environment, real understanding, true success. This is not new, but I am very grateful for this value over wisdom or money.
According to you, what is the "Secret" to become a outstanding candidate for international exchange programs?
As I said, my parents are overprotected me when I was a child but I always want to get out of the wrap (laughs). Fortunately, in the years of secondary and high school, I concentrated on learning English and achieved the English achievements as the second prize of Province students, Olympic bronze medal in online English on the national level; first prize in oral English provincial level (group competition). It is a prerequisite for entering university, to follow my passion- information technology – I feel confident and start looking for scholarships or foreign exchange programs to get out of the pack as soon as possible (laughs).
I think good at foreign language and passion at the major you are specilized in is the key to success.
Information technology has many small branches, why do you choose software engineering to "digging"? What is special with this major?
Software Engineering focuses on two areas: software and game development. As a child I like to play games , I choose this industry to try to pursue hobby. UIT has a very good point that the division of majors right from the beginning to help students have a clear orientation when starting to choose this field of study to follow.
After 3 years of study I found that this is a very interesting field, there are many excellent and modern lecturers and. So many times I think, perhaps thanks to the comfort and friendliness of UIT staffs, so I have many opportunities like today.
How did the specialized knowledge support you during the exchange?
The major of each student makes the exchange programs more diversed than, except for the multicultural diverse. Each person is assigned work in accordance with his specialized skills. In Singapore, Trung helps the other friends use the computer and makes a memorial clip at the farewell. As for studying at Harvard University, I applied the knowledge to make the presentations to help my team members have a basic knowledge of in-depth information technology field before each lecture.
In the near future, will Trung continue to look for other international exchange opportunities?
Because I am senior now, I want to focus on the two internships before graduation. Then I will seek opportunities to work in a certain ASEAN +3 to expand my understanding as well as cultural experiences. Hope that in the near future I have enough experiences to run an IT start-up in the country to challenge myself.
News: Doan Thi Minh Chau