Instead of having a meeting at the office, the board of Presidents and students would have lunch and unofficial talk, relieve schooling problems.
On March 12, during lunch hours, Nguyen Hong Son (a 2nd year student at the Computer Networks and Communications Faculty) met with Dr. Nguyen Tan Tran Minh Khang, Vice President of VNUHCM - University of Information Technology met at a UIT's canteen. After they order food on their own, they sat down and "Having lunch with presidents" began for the first time.
"Classes which were once taught for 5 teaching periods in one English lesson have become less tight. The lessons now are more comfortable, but UIT has increased the number of lessons. The change makes it harder for some students when they sign up new courses," said Son. Other issues which can be counted is the difference in understanding the deadline and the university's acceptance of English certificates.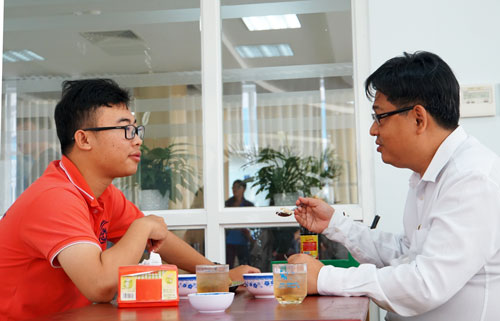 Mr. Son and Dr. Khang (right) are having lunch. Photo: Manh Tung.
After attentively listening, Dr. Khang explained, a subject "English language" was a students' major concern for most students because the subject was a compulsory output. Last year, in the 06 Student Conferences at faculty and university levels, English language was the No.1 issue to be discussed.
There was a problem to most students in previous years, many students did not graduate on time because they had not passed the English subject. Therefore, UIT tried to help them out by increasing the number of lessons, tuition fee stayed the same. "I understand your concern and other students. I will work again with the Academic Affairs Office. Whenever English students meet the language output's requirements, your submission of the certificate will be accepted immediately," Vice President Minh Khang said. In addition, he also shared with the student how to learn English effectively.
Then the student mentioned some difficulties which students faced towards UIT's attendance regulations, slow WIFI connection due to its overloading. He also shared with the Vice President that he did not use his smartphone although he majored in IT, because he was worried about learning distraction.
The Vice President laughed then reassured him that attendance regulation was to create no difficulty to the students, on the contrary, it was a way to help the students have good habits and responsibility in their study. He also admitted that WIFI connection was rather weak in some areas, but basically in almost all the university's buildings, meeting students' needs. He wished everyone would sympathize if the connection did not work properly.
Dr. Khang also advised the students to use smart phones because it could bring lots of convenience in life and learning. "You are aware that it is able to rein you in when overusing it, you have got a whole control of it," said he.
During the meeting and the lunch meal, the two became more open with sharing about their family, other concerns in life. The students got advices from Dr. Khang to deal with difficult situations in family and social relations. "As the regulation, the meal cost is shared by both parties. But this is the first time for the program to carry out, I offer to invite you the meal, do you agree?" The Vice President asked and received the thanks of the students
The idea of "Having lunch with presidents" was in UIT presidents' mind for a long time, and officially started from the beginning of March. The objective was to share and connect students and the president board, make the student affairs soften.
Students who were willing to have lunch with president's representatives, applied for a meeting at the Student Affairs Office. They would be scheduled on Tuesday and Wednesday every week.
Dr. Nguyen Tan Tran Minh Khang said that there was a big gap between students and managers in Vietnam's universities. Many arising problems in teaching, if were not solved timely, would create bad more than good.
Listening and understanding would help improve inadequacies that contributed to a better educational environment. Dr. Khang said "Official meetings at the workplace can be replaced with unofficial meetings at the canteen. The students will be more comfortable to share their points of view."
Source: vnexpress.net