TTO - Not everything on the network is real.Though it is very clear and simple, not everyone knows and how to distinguish which news is real?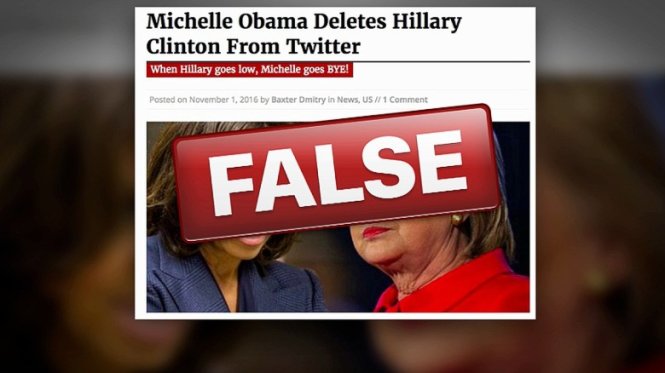 One of the fake piece of news spreading on the Internet with hooked content, Photo: CNN
In fact, how to detect the fake news on the Internet is not too hard. The essential skills readers updated from CNN of two specialists in Communications : Dr. Melissa Zimdars; Assoc. Prof of Merrimack Univeristy, Massachusetts and Mr. Alexios Mantzarlis, director The truth detection is at the Poynter Institute of American Journalism
First of all, you need to distinguish between false and fraudulent messages (which may not be false but manipulated and edited for the other unclarified purposes).
Even those who spend a lot of time on Internet, they still can not be immune from false news
False and fraudulent news
1. False news: These are the most recognizable types of information and often appear on fake sites that are designed to look like official news sites. They may contain images and headlines that may seem original at first glance.
2. Fraudulent news: This type of information is often the most difficult to distinguish because they often contain a piece of content that is true. It could be an information, an event or a quote that has been removed from context. This type of information is usually included in hooked headlines, but there is no supporting information for it in the accompanying content.
3. Biased news: This is also a form of deceptive information when facts are manipulated by the writers in a manner conducive for their propaganda purpose.
4. "View" news: shocking or provocative headlines that trick you into clicking. They often do not have content that satisfies the "promises" stated in the title.
5. Satirical news: This is the kind of news being hard to detect because satire does not have to be real news, it's used for commentary or entertainment purposes. For those unfamiliar with satirical websites, they misunderstand and may share the information on it as if it were the mainstream news.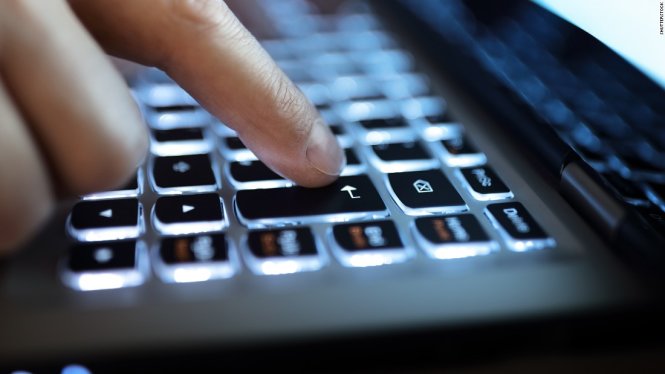 Be consider before sharing or posting on the Internet.  Internet -Photo: CNN
Investigating the news:
Mr. Alexios Mantzarlis, specialist in training the information detector said that the healthy doubtfulness is the important skill to help us consider before sharing any news.
There are 10 questions that you should wonder while realize something wrong
1. Does the news appear on "strange website"?
Unrelated links may include domain suffixes like ".co" or ".su" or any such type of suffixes provided by third party platforms such as WordPress. If the information comes from pages of that type, be wary.
2. Does the title fit the content of the article?
One of the biggest reasons for fake news spreading on Facebook is that people often interested in the headlines without even clicking on them to look at the content. The content does not resemble in fact the titles .
3. Did the news happen recently or was the old one used for another purpose?
There are many real information is edited and "unearthed" from the old time as a material for a new content as writer's purpose.
The typical example is a blog called Viral Liberty recently posted that the Ford Group had relocated its trucking business from Mexico to Ohio after President Donald Trump was elected. The story is spreading online, but in fact, the relocation has been made by Ford in 2015, clearly that is not affected by the election of the US president.
4. Can video and photos complement the verifiable news?
And "square peg in a round hole" happening with photos and videos in the news is not rare. This April, the Occupy Democrats posted a video showing a young girl being dragged out of the toilet by the police because she was not so girly. However, no evidence of a happening date indicates that the video was filmed in North Carolina where the toilet draft bill was passed
In fact, according to Snopes, the video has been posted on a Facebook page since 2015, which is before the toilet draft bill debate.
5. Does the article quote the original source?
In fact, not only did the political news get faked. Now8News is one of the most disreputable disguising news sites, especially the bizarre news that spreads rapidly on the Web.
One such type of news is that recently this site has announced that Coca-Cola has collected Dasani water bottles after detecting transparent parasites in the water.
This page even posts a photo of a creature that is thought to be a parasite. Of course, this kind of articles never give information about announcements or statements of entities relating to the information they distribute.
6. Could we track the citations available in the article?
With this type of news, it's easy to tack if you take time to check it out. The People.com site has large archive and you can search for a lot of celebrities' speech.
7. Is this the only site delivering this information?
In the US presidential election season this year, Pope Francis was attacked by gossips in three completely fabricated stories. They said the Pope supported three presidential candidates. First, the National Report said he supported Bernie Sanders, and that the WTOE 5 News site said he supported Donald Trump. And finally KYPO6 said he supported Hillary Clinton.
The online reading routine turns us into victims of online fake or fraudulent news- Photo: Fotolia
In situations like this, you should look for other official sources to see what they say about that news. If you search over and over again, but you could find any news besides that, you have to consider about it.
8. Are you biased?
 Both Zimdars and Mantzarlis argue that the bias inherent in each person is one of the reasons why fake news has the potential to spread.
Some of these factors relating to Facebook's strategy, it is based on how you behave with a particular interest in the information and will lead you to that related interest news.
For example, if you do not like Mr. Trump, you tend to think that the negative information about him is true, even if there is no evidence.
So if you read something and see it as "incredible", be careful.
9. Has the site ever been uncovered by a truth detection organization?
There is an international truth-verification network that does this job. There are also other sites like FactCheck.org, Snopes and Politifact.
10. Is there a list of unreliable news sites?
In fact, there is a huge difference between fraudulent news and fake news, but neither of these kinds of news is worth the attention of the reader. As a result, Zimdars has listed a list of news sites in both categories.
The Snopes page also has a list of their own here.
*Never be misled by the kinds of fake news being shared blossomed on social networks. The content of the article above provides only basic knowledge and you need to practice each day to turn them into your own skills.
Source: tuoitre.vn