The head of HCM City Party Committee said that the investment of Vietnam National University, HCMC will contribute to the overall development of the city and this is the responsibility of departments.
On the afternoon of March 15, after visiting the Vietnam National University, Ho Chi Minh City (Thu Duc district), Dinh La Thang, secretary of the HCMC Party said that many areas in the Vietnam National University in Vietnam is still in its early stages. the completed insfrastructure is completely on the downside and old-fashioned. Mr Thang said that the investment for the Vietnam National University, Ho Chi Minh City is fragmented and scattered. 
"Although the Vietnam National University, Ho Chi Minh City has made much efforts, the results have not met its goals. The university's knowledge resources are huge with hundreds of professors and research projects, but not invested efficiently, "said the head of Ho Chi Minh City Party Committee.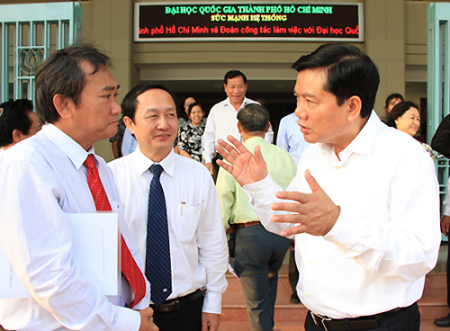 Mr. Dinh La Thang discuss with the staffs at Vietnam National University Photo: Mạnh Tùng
Leaders of Vietnam National University, HCMC members have reported to the Secretary of the Party Committee about the inadequacies in the autonomy mechanism, funding for scientific research and finding the output for the researches. Among that, there are some difficulties arising from the coordination with departments in Ho Chi Minh City.
Listening to these reflections, Mr. Thang urged the Ho Chi Minh City authorities to Vietnam National University, HCMC as a part, a driving force for development. It is the responsibility of the City to invest and exploit the products of Vietnam National University, HCMC for general development serving.
Mr. Thang also requested the Vietnam National University, Ho Chi Minh City build a mechanism for University members have more autonomies and boost the socialization of some investment items.
"Dormitory spaces can be used to invest, construct, develop and manage, so it is better," said the City Party Committee Secretary.
 Regarding the training industry, Mr. Thang emphasized that Vietnam National, Ho Chi Minh City should focus on seven breakthrough programs, nine service industries and four industries of the city. At the same time, the school should coordinate with the city's high tech parks to use effectively, saving intellectual resources and machines.
Also at the meeting, Mr. Phan Thanh Binh - Director of Vietanm National University, HCMC - suggested to HCM City authorities to assist in ground clearance activities and transportation for the National University urban area.
Specifically, in this urban area has a "fly" market and the gate of the Vietnam National University, Ho Chi Minh City has not cleared the neighboring  house. Besides, Mr. Binh also suggested the city build some connecting roads, pedestrian bridges in some schools to keep safe for students.
Receiving obstacles, Nguyen Thanh Phong, Chairman of HCM City People's Committee, said that this problems will be assigned and to relevant departments and solved by them coordinating with Universities.
Source: vnexpress.net